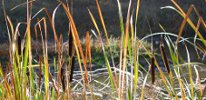 Archived Workshops/References
Landscape-level conservation planning
Description
Much of the time, conservation organizations merely look at within preserve boundaries to conserve and protect species. Increasingly, however, we are realizing the need for a larger-scale focus so that species do not become genetically isolated and so that species can re-colonize habitat patches where they have gone extinct. Biotic corridors and habitat connectivity are two emerging topics in conservation biology which the Coastal Training Program has been focusing on with its trainings.
We feel that establishing effective biotic corridors is one of the best examples of win-win solutions. Without habitat connectivity, genetically isolated vertebrate species may be less healthy; they may also be eligible for extra legal protection under the federal endangered species act.
Our trainings on landscape-level conservation planning feature leading experts and practitioners in California. We hope that our work featuring the latest science on this subject can improve conservation acquisition and management decision making in central California and will help ensure the ecological integrity of the Elkhorn Slough watershed over the coming millennia.
Training Programs
Documents and Publications
TITLE
DATE ADDED
AUTHOR
SOURCE
DESCRIPTION
WORKSHOP MATERIALS
Research Needs List: A Summary
PDF, 16KB
Jun 25 07
Sandra Jacobson
Coastal Training Program
2007
Road Ecology References
DOC, 46KB
Jun 25 07
Australian Research Centre for Urban Ecology
Elkhorn Slough Coastal Training Program
2007
Wildlife Connectivity Bibliography
PDF, 31KB
Jul 17 07
Coastal Training Program, Elkhorn Slough National Estuarine Research Reserve
Elkhorn Slough Coastal Training Program
2007
PEER-REVIEWED PUBLICATIONS
A checklist for evaluating impacts to wildlife movement corridors
PDF, 497KB
Jan 30 07
P. Beier
Wildlife Society Bulletin 20:434-440
1992
A conservation design for the Central Coast of California and the evaluation of mountain lion as an umbrella species
PDF, 334KB
Feb 23 07
James H. Thorne, Dick Cameron, James F. Quinn
Natural Areas Journal 26(2):137-148
2006
A southern California freeway is a physical and social barrier to gene flow in carnivores
PDF, 611KB
Jun 28 07
Seth P. D. Riley, John P. Pollinger, Raymond M. Sauvajot, Eric C. York, Cassity Bromley, Todd K. Fuller, Robert K. Wayne
Molecular Ecology 15:1733-1741
2006
Determining minimum habitat areas and habitat corridors for cougars
PDF, 1.2MB
Jan 30 07
P. Beier
Conservation Biology 7(1):94-108
1993
Do habitat corridors provide connectivity?
PDF, 408KB
Jan 30 07
P. Beier and R. F. Noss
Conservation Biology 12(6):1241-1252
1998
Ecological Effects of Roads and Traffic: A Literature Review
PDF, 537KB
Jun 25 07
Ian F. Spellerberg
Global Ecology and Biogeography Letters 7(5):317-333
1998
Effects of Urbanization and Habitat Fragmentation on Bobcats and Coyotes in Southern California
PDF, 5MB
Jun 28 07
Seth P. D. Riley, Raymond M. Sauvajot, Todd K. Fuller, Eric C. York, Denise A. Kamradt, Cassity Bromley, and Robert K. Wayne
Conservation Biology 17(2):566-576
2003
Home-Range and Habitat Selection by Adult Cougars in Southern California
PDF, 5.2MB
Jun 25 07
Brett G. Dickson and Paul Beier
Journal of Wildlife Management 66(4):1235-1245
2002
Influence of Vegetation, Topography, and Roads on Cougar Movement in Southern California
PDF, 258KB
Jun 25 07
Brett G. Dickson, Jeffrey S. Jenness, Paul Beier
Journal of Wildlife Management 69(1):264-276
2005
Metapopulation Models, Tenacious Tracking, and Cougar Conservation
PDF, 1.6MB
Jun 25 07
Paul Beier
Metapopulations and Wildlife Conservation, D.R. McCullough, ed.
1996
Roads and Genetic Connectivity
PDF, 509KB
Jun 28 07
Jared L. Strasburg
Nature 440:875-876
2006
South Coast Missing Linkages: restoring connectivity to wildlands in the largest metropolitan area in the USA
PDF, 2.1MB
Dec 12 07
Paul Beier, Kristeen L. Penrod, Claudia Luke, Wayne D. Spencer, and Clint Cabanero
Connectivity Conservation, eds. Kevin R. Crooks and M. Sanjayan
2006
The role of corridors in conservation - solution or bandwagon
PDF, 788KB
Jan 19 07
R.J. Hobbs
Trends in Ecology & Evolution 7(11):389-392
1992
Use of highway undercrossings by wildlife in southern California
PDF, 377KB
Jun 27 07
Sandra J. Ng, Jim W. Dole, Raymond M. Sauvajot, Seth P. D. Riley, and Thomas J. Valone
Biological Conservation 115:499-507
2004
OTHER INFORMATION
Aerial view of Coyote Valley
JPG, 14.7MB
Jan 30 07

Elkhorn Slough Coastal Training Program

Effects of Two-Lane Roads on Endangered San Joaquin Kit Fox
PDF, 721KB
Jun 25 07
Brian L. Cypher, Curtis D. Bjurlin, and Julia L. Nelson
California Department of Transportation
2005
Highway Median Impacts on Wildlife Movement and Mortality: State of the Practice Survey and Gap Analysis
PDF, 1.4MB
Jun 21 07
Anthony P. Clevenger and Angela V. Kociolek
California Department of Transportation
October, 2006
Highways Through Habitats: The Banff Wildlife Crossings Project
PDF, 575KB
Jun 25 07
Tony Clevenger
TR News 249:14-17
2007
Letter from Brad Shaffer on California tiger salamander hybridization
PDF, 28KB
Jul 17 07
H. Bradley Shaffer
Elkhorn Slough Coastal Training Program
January 29th, 2007
Letter to David Johnston concerning Coyote Valley
PDF, 649KB
Jul 17 07
Jim Thorne
University of California, Davis
November 15th, 2006
Principles of Wildlife Corridor Design
PDF, 19KB
Jan 30 07
Monica Bond
Center for Biological Diversity
2003
Proceedings of the Sierra Azul Wildlife Connectivity Workshop
PDF, 92KB
Jul 17 07
Coastal Training Program, Elkhorn Slough National Estuarine Research Reserve
Elkhorn Slough Coastal Training Program
January 26th, 2007
Safe Passage: A User's Guide to Developing Effective Highway Crossings for Carnivores and Other Wildlife
PDF, 816KB
Jun 25 07
Bill Ruediger and Monique DiGiorgio
The Southern Rockies Ecosystem Project
2007
State and Federal regulators comment letter: Castro Valley Ranch DEIR
PDF, 1.2MB
Jan 18 07
U.S. Fish & Wildlife Service, California Department of Fish and Game
U.S. Fish & Wildlife Service
2006
State and Federal regulators' comment letter: Coyote Valley Specific Plan
PDF, 248KB
Jan 18 07
U.S. Fish and Wildlife Service, California Department of Fish and Game
U.S. Fish & Wildlife Service
2007
Urban Roads and the Endangered San Joaquin Kit Fox
PDF, 3.4MB
Jun 21 07
Curtis D. Bjurlin, Brian L. Cypher, Carie M. Wingert, and Christine L. Van Horn Job
California Department of Transportation
July 10, 2005
Wildlands Conservation in the Central Coast Region of California
PDF, 1.5MB
Oct 16 06
Jim Thorne, Dick Cameron, Verna Jigour
California Wilderness Coalition
2002
Wildlife and Transportation Reference for the Oak Ridges Moraine
PDF, 2.7MB
Jun 21 07
Provincial and Environmental Planning Office, Ministry of Transportation, Ontario CAN
Ministry of Transportation
June 2005
Links