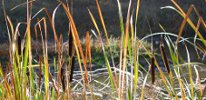 Frequently Asked Questions
Registration FAQ's
Don't see the answer you were looking for? Please contact us!
How will I know I've registered for a program?
After you register on-line, you will have the opportunity to print out your confirmation. You will also receive a confirmation email within 24 hours of completing the online registration.
How do I submit payment after I've registered for a program?
After registering you will given the option to pay immediately with a credit card or come back later to do so. You may also pay by check. Checks should be made out to Elkhorn Slough Foundation.
Submit a copy of your confirmation letter and check to:
Coastal Training Program
1700 Elkhorn Road
Watsonville, CA 95076
When is payment due?
Payment is due no later than three weeks before the event. If we do not receive payment, your name will automatically be dropped from the roster, and you will not be able to re-register. If you are concerned that your agency may not send payment in a timely manner, we recommend that you either pay with a personal credit card or send a personal check and get reimbursed. Please contact us as well with any concerns.
When is payment due if I'm added at the last minute from the waiting list?
We just need to receive an email from you stating that you will be paying with a credit card on-line or that the check has been mailed before the class date.
To whom do I make the check out?
Elkhorn Slough Foundation
Do you accept Purchase Orders?
Sorry, no.
How do I know if my payment has been received?
You will receive an automatic email receipt when we receive payment.
How do I cancel my registration in a program?
Cancellations must be received no later than three weeks before the class for a full refund minus a $50 processing fee. If you cancel after the 3 week deadline more than once, you will no longer be offered registration in our programs. Contact the Coastal Training Program Coordinator (Grant Lyon) at 831-288-5404, grant(at)elkhornslough.org
Do you issue refunds?
Yes. To receive a refund, you must cancel at least three weeks before the class. After this time we are no longer able to offer a refund. However, if we are forced to cancel a class for any reason you will receive a full refund.
If I am unable to attend, may I substitute someone else?
No, your position will be offered to the next person on the wait list.
Can I register several people at once?
We recommend that you register only for yourself to avoid any miscommunications and someone being left off the list.