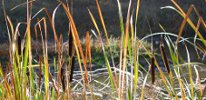 Training
The Elkhorn Slough Coastal Training Program provides individuals and groups science-based information, tools, and techniques to make better decisions regarding resources within coastal watersheds. This is done by offering appropriate training opportunities and serving as a reference source for local science based information pertaining to the four National Priority issues identified by NOAA.
National Priority Issues:
Habitat Restoration
Maintaining biodiversity
Polluted runoff
Sustainable human systems
The Elkhorn Slough CTP defines more specifically which local coastal resource issues will be addressed through periodic audience needs assessment. Through collaboration with onsite reserve researchers and coastal decision makers the Elkhorn Slough CTP further identifies local and regional information and technical needs.
The Elkhorn Slough CTP shares current science through formats such as:
Workshops
Seminars
Classes
Field trips
---
Current Training Programs
These classes fill quickly, so you'll want to register right away. After you register, please pay with a credit card online or print out your registration confirmation letter and submit it with your check. If the classes are full, please add your name to the waiting list, as space often becomes available.
No programs are currently scheduled.
Pending Training Programs
Recent Training Programs
Our most recent past workshops are listed here. Materials and information for our other workshops can be found in the Archived Workshops section of this web site.