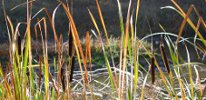 Training
Intensive/Rotational/Holistic Grazing on Small Acreage
Registration Opens: Wed, Oct 31, 2018
Deadline to Register: Fri, Dec 7, 2018
Cost: FREE
Seats Available: 30 of 30 REGISTER NOW
Please only register for yourself, registration requires a unique email address.
---
Instructor Information
Mark Biaggi
Ranch Manager
TomKat Ranch, LLC
Pam Krone
Agriculture Water Quality Coordinator
Monterey Bay National Marine Sanctuary
Sarah Lopez
Owner
Fiesta Farm
Mr. Joe Morris
Rancher
Morris Grassfed Beef
Allison Tokunaga
Rangeland Management Specialist
Natural Resources Conservation Service
John Warner
Soil Conservationist
Natural Resources Conservation Service
Contact
Pam Krone
pam.krone@noaa.gov
831-647-4238
Sponsors

Elkhorn Slough Coastal Training

California Marine Sanctuary Foundation

California Climate Investments

NRCS
Description
See also: Healthy Soils, Sustainable Human Systems
Rotational grazing, as contrasted to continuous grazing, involves rotating livestock between multiple paddocks or sub-divided pastures. Through having a resting period, forage plants can recover their energy reserves, rebuild vigor, deepen their root systems, and provide long-term maximum production
Topics Include:
Developing a grazing plan, observing plant recovery, and adaptive management

Issues and considerations for rotational grazing on small acreage

Holistic management and objective setting

Rotational considerations for sheep, goats, chickens & pigs

NRCS EQIP money and CDFA Healthy Soils Program grant support of practices

Soil improvement and carbon sequestration on working lands
The workshop consists of classroom lectures and discussion followed by a ranch tour of Fiesta Farms.
Registration for this meeting is open to all. If you would like to attend, please email Pam Krone at pam.krone@noaa.gov to complete your registration. Registration will close Friday, December 7th at 5 p.m.
Documents and Publications
Questions and Answers
Submit a question on this subject and we'll provide an answer. info@elkhornsloughctp.org