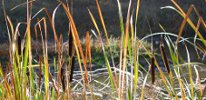 Archived Workshops/References
California King Tide Initiative
Description
The Elkhorn Slough Coastal Training Program (ESCTP) is an organizing partner with the California King Tide Initiative. Volunteers and citizen scientist around the Central Coast may submit their photographs to ESCTP for submission to the California King Tide website. These are a few suggested sites, photographs of these sites during king tides will help to inform the research team at the Elkhorn Slough National Estuarine Research Reserve. To upload photos of these or other sites send to virginia@elkhornslough.org and include the following: date, time, tide height, location and direction camera is facing.
1) Hudson Landing pullout along Elkhorn Road
Take 1 photo on W side of road facing W towards RR bridge, take 2nd photo on E side of road facing E towards Porter Marsh. In both cases, have culverts in foreground. Publically accessible 24 hrs/day; be careful to park well off road on shoulder and take care crossing road.
2) Kirby Park
Stand about 10 feet SE of gate to paved nature trail. Take 1 photo to NW to look through gate and beyond at trail. Take 2nd photo to SE, capturing the rip-rapped parking lot edge and the dock in the distance. Publically accessible during daylight hours only.
UK cheap super clone watches with high quality for men and women online.
Where can you buy cheap breitling replica watches UK? Swiss fake Breitling online store can be a good choice.
3) ESNERR South Marsh Footbridge
Stand about 10 feet S of footbridge and take photo facing N, across bridge and beyond. Publically accessible along 20 min foot trail from ESNERR visitor center, 9 am - 5 pm on Wed-Sun only.
4) Jetty Road
Stand facing west with views of the road and either side of the waterway in frame. Publically accessible during daylight hours only.
Documents and Publications
Links