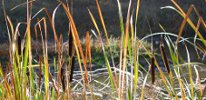 Archived Workshops/References
Yadon's Piperia
Description
The Elkhorn Slough Coastal Training Program focuses on facilitating the adaptive management and recovery of endangered species through series of what we call 'recovery workshops' followed by ongoing facilitation of the delivery of relevent scientific information. The recovery workshops are modelled after the California Department of Fish and Game's recovery workshops, which have largely been abandoned due to budget constraints.
One of the species we are following is Yadon's piperia (Piperia yadonii), a federally-listed endangered species of orchid found only in northern Monterey County. Thus far, we have sponsored one recovery workshop and a small amount of ongoing scientific dialogue concerning conservation and recovery of the species.
In the future, we hope to more closely examine the questions of: the genetic relationship between Monterey Peninsula and Prunedale Hills populations; population models to inform recovery measures, and; habitat management/restoration efficacy for species recovery.
Please contact us if you have information relevent to these subjects, so that we can better scope future recovery workshops.
Training Programs
Documents and Publications
Links