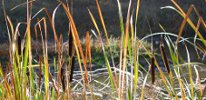 Archived Workshops/References
Santa Cruz Tarplant
Description
The Santa Cruz Sunflower (aka 'Santa Cruz Tarplant,' Holocarpha macradenia) is an endangered plant species which naturally remains only in a few populations in Santa Cruz County. A handful of other small populations have been introduced to the East Bay hills from seed rescued from the last SF Bay population before it was destroyed.
This species is home to moist coastal prairie sites where disturbances maintain a short vegetation canopy through the growing season. Its beautiful flower heads color the otherwise dry fields of mid summer, attracting an interesting array of pollinators.
This website serves as a clearinghouse for information regarding the species. You will find data on population trends and literature on its ecology and management. We encourage you to submit relevent material for posting here. Please email grey@elkhornslough.org with any reports, population numbers, maps, notes, papers, etc., that might help recover this species from endangerment.
Training Programs
Documents and Publications
TITLE
DATE ADDED
AUTHOR
SOURCE
DESCRIPTION
PEER-REVIEWED PUBLICATIONS
Challenges to Introducing and Managing Disturbance Regimes for Holocarpha macradenia, an Endangered Annual Grassland Forb
PDF, 277KB
Apr 12 07
Karen D. Holl Grey F. Hayes
Conservation Biology 20(4):1121-1131
December 2006
This paper describes the difficulties with restoration or experimental introduction of plant species.
Seed banks in plant conservation: Case study of Santa Cruz tarplant restoration
PDF, 277KB
Jan 10 07
William H. Satterthwaite Karen D. Holl, Grey F. Hayes, Adelia L. Barber
Biological Conservation 135:57-66
February 2007
OTHER INFORMATION
Apple Hill Tarplant Numbers
PDF, 22KB
Jun 30 05

California Department of Transportation

City of Santa Cruz Arana Gultch Population Information
PDF, 52KB
Jun 30 05
Lenington, Kirk

2003
Conservation biology of the Santa Cruz tarplant
PDF, 2MB
Aug 12 08
Dean Wm. Taylor, PhD
California Department of Fish and Game
March 1990
Fairway Drive Tarplant Report
PDF, 51KB
Jun 30 05
Vince Cheap
California Native Plant Society
2003
Holocarpha macradenia (Santa Cruz Tarplant) at the Watsonville Airport: Population Trends and Management Actions
PDF, 60KB
Jun 30 05
Kiguchi, Laurie

2003
Holocarpha macradenia (Santa Cruz tarplant) plant community composition, seedling density, pollination, seed dispersal and plant vigor/phenology. A report submitted to the California Department of Fish and Game. Sacramento, California.
PDF, 331KB
Jun 30 05
Hayes, Grey
California Department of Fish and Game
2003
Holocarpha macradenia Greene (Santa Cruz tarplant) Demography and Management Studies. A report submitted to the California Department of Fish and Game.
PDF, 199KB
Jun 30 05
Bainbridge, Susan
California Department of Fish and Game
2003
Holocarpha macradenia range map
TIF, 13.2MB
Aug 18 06
Eric Van Dyke
Elkhorn Slough Coastal Training Program

Holocarpha macradenia response to experimental disturbance regimes. In: Cattle grazing effects on California coastal prairie and associated annual forbs Chapter 4, doctoral dissertation. Department of Environmental Studies, University of California at Sa
PDF, 708KB
Jun 30 05
Hayes, Grey
UC Santa Cruz
2002
It's up to us: The Future of the Santa Cruz Sunflower (tarplant) and Coastal Prairie
PDF, 4.1MB
Jan 10 07
Grey Hayes, PhD
Elkhorn Slough Coastal Training Program
January 2007
This presentation was given to the Santa Cruz Chapter of the California Native Plant Society and taped for airing on Santa Cruz's Community T.V.
Management Actions and Population Trends for the Twin Lakes Population of Santa Cruz Tarplant (Holocarpha macradenia), September 1998-July 2003
PDF, 140KB
Jun 30 05
Hyland, Tim
California Department of Parks and Recreation
2003
Management of Santa Cruz Tarplant at the Santa Cruz Armory
PDF, 63KB
Jun 30 05
Olson, Jody
California National Guard
2003
Map of tarplant populations of Anna Jean Cummings Park from the late 1980s
PDF, 226KB
Jun 30 05
Jon Libby


Population census: Contra Costa populations 1982-2002
PDF, 1.9MB
Jun 30 05

Contra Costa County

Population census: Santa Cruz and Monterey populations 1977-1994
PDF, 4.7MB
Jun 30 05


1995
Proposed bike road through Arana Gulch
JPG, 813KB
Jun 30 05

City of Santa Cruz
2003
Recent location of Santa Cruz sunflower populations at Arana Gulch
JPG, 525KB
Jun 30 05

Biotic Resources

Report on Holocarpha macradenia at the Elkhorn Slough Foundation's Porter Ranch
PDF, 98KB
Jun 30 05
Hayes, Kimberly
Elkhorn Slough Coastal Training Program
2003
Santa Cruz Tarplant Population at the Graham Hill Road Site
PDF, 66KB
Jun 30 05
Haley, Valerie
Native Vegetation Network
2003
Santa Cruz Tarplant Status and Trends
PDF, 2.4MB
Jun 30 05
California Department of Fish and Game
California Department of Fish and Game
2003
Tarplant Management at Anna Jean Cummings County Park
PDF, 95KB
Jun 30 05
Rigney, Joe
Central Coast Wilds
2003
Tarplant Seedling Identification
PDF, 334KB
Jun 30 05

Elkhorn Slough Coastal Training Program

The Saga of the Santa Cruz Tarplant
PDF, 811KB
Jan 18 07
Grey Hayes
Four Seasons, V. 10, #4
December 1998
Describes the restoration of the Santa Cruz Sunflower (Holocarpha macradenia) at the Arana Gulch Greenbelt, City of Santa Cruz, California.
The US Fish and Wildlife Service Critical Habitat Designation
PDF, 37KB
Jun 30 05
U.S. Fish and Wildlife Service
Federal Register, Vol. 67, No. 88, 30642-30643
2002
Links