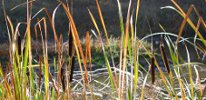 Archived Workshops/References
Coastal Training Network
Description
Training people to better steward the environment is a science, an art, and a passion for many, but we often are too isolated in our work to effectilvely share ideas and resources or to develop collaborations that could create more effective outcomes.
The Coastal Training Network is an ad hoc group of environmental educators, meeting from time to time to learn from one another on how to do our jobs better.
We invite you to join our ranks, to host one of our meetings, or to attend one of our gatherings to see what you can learn or teach.
Training Programs
| | |
| --- | --- |
| Niche and Needs Assessment | Dec 25, 2001 |
| Project Design and Evaluation | Oct 21, 2009 - Oct 22, 2009 |
| Facilitation Skills for Scientists and Resource Managers | Sep 15, 2010 - Sep 17, 2010 |
| Environmental Negotiations Workshop | Feb 8, 2011 - Feb 10, 2011 |
| Facilitation Skills for Scientists, Planners and other Resource Managers | May 10, 2011 - May 12, 2011 |
| Assessment to Planning: Collaboration on Climate Change Training Strategy Session | Sep 14, 2012 |
| Facilitation Skills for Scientists and Resource Managers 2012 | Dec 4, 2012 - Dec 6, 2012 |
| Water Words That Work | Jan 22, 2013 |
| California Climate Adaptation Training Coalition February 2013 Meeting | Feb 13, 2013 |
| Navigating in Rough Seas: Planning and Facilitating Collaborative Meetings | Jan 22, 2014 - Jan 23, 2014 |
| Environmental Negotiations Workshop 2017 | Nov 7, 2017 - Nov 9, 2017 |
| Planning and Facilitating Collaborative Meetings | Sep 5, 2018 - Sep 6, 2018 |
| Building Risk Communication Skills | Mar 4, 2020 |
| How to Plan and Facilitate an Engaging Virtual Meeting | Apr 30, 2020 |
| 15 Strategies for Communicating Science and Data to Non-Scientists | May 7, 2020 |
| Pajaro Compass Network Virtual Fall 2020 Stakeholder Meeting | Oct 28, 2020 |
| Social Science Basics for Coastal Managers: Understanding Stakeholders | Mar 9, 2023 |
| Social Science Basics for Coastal Managers: Conducting Interviews & Writing Effective Survey Questions | Mar 16, 2023 |
| Social Science Basics for Coastal Managers: Analyzing Qualitative Data | Mar 23, 2023 |