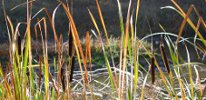 Archived Workshops/References
Protected Lands Management
Description
The management of protected lands is a crucial element of the conservation of life on planet earth as we now envision it. One day, societies may learn to value and manage all lands as if they were valued for life; but for now modern planning divides the land. It is unclear if this divided landscape, protected vs. unprotected lands, can truly protect all that we cherish.
This website presents literature concerning protected lands stewardship, from reserve design to invasive species management. We hope to update this website from time to time to present the best and brightest scientists and practitioners' writings on this subject. Please keep checking back for more.
If you know of something that should be posted here, by all means let us know.
Training Programs
| | |
| --- | --- |
| Protected Lands Network Design | Jul 31, 2010 |
| Big Basin: Why Management Matters in Old Growth and for Marbled Murrelet | Aug 2, 2010 |
| Planning for Management | Aug 7, 2010 |
| Sunset State Beach: Case study in recreation in and around conservation lands | Aug 9, 2010 |
| The New Normal: Changed Disturbance Regimes and New Invasive Species | Aug 14, 2010 |
| How Environmental Education and Public Engagement Link with Protected Lands Management | Aug 16, 2010 |
| What is and isn't protected on working lands? | Aug 21, 2010 |
| Conservation on the urban fringe | Aug 23, 2010 |
| Extraction in and around conservation lands | Aug 28, 2010 |
| Where do we go from here: opportunities to improve protected lands management | Aug 30, 2010 |
Documents and Publications
Links