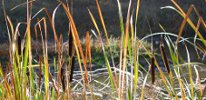 Archived Workshops/References
Santa Cruz Long-Toed Salamander
Description
The Santa Cruz long-toed salamander (Ambystoma macrodactylum croceum) is listed by the federal government as endangered. It is found in a very narrow geographic range, from Aptos to Moss Landing, California. It breeds in mostly ephemeral ponds and adults then migrate upslope into mostly scrublands and woodlands.
The Elkhorn Slough Coastal Training Program will add more content here as we, ourselves learn more. Our work entails sharing the best, most up to date scientific information with the variety of audiences working to protect, manage, and recover the species.
Our goal is to assist through education, networking, and group process assistance, professionals in creating a speedy and effective recovery of this species. We envision that this will first entail basic education about the ecology and conservation issues for the species. We will then tier up to detailed management information, and onto the best science to inform recovery of each population, and then the species as a whole.
Please stay in touch and, if you can, assist us as you can with our goals.
Training Programs
Documents and Publications
TITLE
DATE ADDED
AUTHOR
SOURCE
DESCRIPTION
WORKSHOP MATERIALS
SCLTS Workshop Presentation
PDF, 17.4MB
Jun 16 14
Wesley Savage
Elkhorn Slough Coastal Training Program
2014
Workshop presentation
PEER-REVIEWED PUBLICATIONS
A Comparison of the Life Histories of Coastal and Montane Populations of Ambystoma macrodacytlon in California
PDF, 3.1MB
Apr 23 09
James D. Anderson
The American Midland Naturalist 77(2):323-355
1967
Much of this document is out-of-date, but pay especial attention to the description of the habitat of Santa Cruz long-toed salamander in this historic literature.
Recovery Plan (Draft): Santa Cruz long-toed salamander
PDF, 23.6MB
Apr 23 09
US Fish and Wildlife Service
USFWS
2004
This is the latest draft recovery plan for the Santa Cruz long-toed salamander.
Species account: Santa Cruz long-toed salamander
DOC, 9MB
Apr 23 09
American Society of Ichthyology and Herpetology

1963
This is a historical document describing the range and relationship of the Santa Cruz long-toed salamander. It is not up to date, but is an interesting piece of history.
Using Cameras to Monitor Tunnel Use by Long-toed Salamanders: An informative cost-efficient technique
PDF, 2.3MB
May 23 14
Katie S. Pagnucco, Cynthia A. Paszkowski, and Garry J. Scrimgeour
Herpetological Conservation and Biology 6(2):277-286
MAy 2011
Study of wild life crossing and corridor use by amphibians.
OTHER INFORMATION
Amphibian Mortality on Roads: A case study in Santa Cruz Long-toed salamander habitat
PDF, 4.7MB
May 23 14
Michael Hobbs
San Jose State University
2013
Master Thesis
California Wildlife Habitat Relationships System: long-toed salamander species account
PDF, 24KB
Apr 23 09
California Department of Fish and Game
California Interagency Wildlife Task Group
2007
This is some more or less up to date information on the long toed salamander species in California.
Sampling Procedures for Determining Presence or Absence of the Santa Cruz Long-toed Salamander (Ambystoma macrodactylum croceum)
PDF, 70KB
Apr 23 09
John M. Brode
US Fish and Wildlife and California Department of Fish and Game
May 1993
If suitable Santa Cruz Long-toed Salamander (SCLTS) breeding habitat occurs on the project site, the sampling procedures included here shall be followed. Suitable SCLTS breeding habitats are ponds that hold water in "normal" rainfall years at least through the end of May. SCLTS usually migrate and breed during the winter rains, typically January through February, depending upon rainfall patterns.
Santa Cruz County Planning Department Policy: Site Disturbance and Impervious Surface in the Salamander Protection Zone
PDF, 57KB
Apr 22 09
Santa Cruz County Planning Department
County of Santa Cruz
1/1/03
This policy outlines government policy for disturbance by development in areas where the Santa Cruz long toed salamander is found.
Tissue Collection Protocol for Genetic Research
PDF, 270KB
Apr 21 09
K.E. Leyse, A.J. Lind, W.K. Savage, H.B. Shaffer, and M.R. Stephens
Elkhorn Slough Coastal Training Program
April 2009
This is a white paper describing techniques and skills for collecting tissue from amphibians in genetic research projects. For more information, correspond with: Amy Lind Section of Evolution and Ecology - Storer Hall One Shields Avenue University of California, Davis 95616 ajlind@ucdavis.edu (530)-752-1112, (530)-759-1702
Links