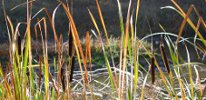 Archived Workshops/References
Wetland Delineation
Description
State and Federal laws protect wetlands for their values of protecting biological diversity and in providing clean water. The science of delineating wetlands involves 3 disciplines: soil ecology, hydrology, and botany. In addition, the changing regulatory landscape requires expertise in interpreting law and addressing legal requirements when delineating wetlands. Finally, wetlands delineation requires a good foundation in the overall ecology of a diverse array of wetlands ecosystems.
The Elkhorn Slough Coastal Training Program provides training and information on wetlands delineation in an attempt to bring practitioners the best and most current information available. Check this website for materials to assist you with wetlands delineation, including reference materials, contact information for people with whom to network, and links to helpful websites.
If you need further assistance, or wish to inform us of additonal material for our website, please contact us.
Training Programs
Documents and Publications
TITLE
DATE ADDED
AUTHOR
SOURCE
DESCRIPTION
WORKSHOP MATERIALS
Clean Water Act Jurisdiction Following the U.S. Supreme Court's Decision in Rapanos v. United States & Carabell v. United States
PDF, 148KB
Jan 29 08
Benjamin H. Grumbles and John Paul Woodley, Jr.
U.S. EPA and Dept. of the Army
June 5, 2007
This memorandum provides guidance to EPA regions and U.S. Army Corps of Engineers ["Corps"] districts implementing the Supreme Court's decision in the consolidated cases Rapanos v. United States and Carabell v. United States which address the jurisdiction over waters of the United States under the Clean Water Act.
MEMORANDUM FOR DIRECTOR OF CIVIL WORKS AND US EPA REGIONAL ADMINISTRATORS
PDF, 131KB
Jan 29 08
Benjamin H. Grumbles and John Paul Woodley, Jr.
U.S. EPA and Dept. of the Army
June 5, 2007
The purposes of this memorandum are to promote and improve interagency cooperation, facilitate increased communication, and establish an efficient and effective process for determining Clean Water Act Section 404 jurisdiction in light of the Supreme Court decisions in Solid Waste Agency of Northern Cook County v. U.S. Army Corps of Engineers, 531 U.S. 159 (2001) (SWANCC), and the consolidated cases Rapanos v. United States, and Carabell v. United States, 126 S. Ct. 2208 (2006) (jointly hereafter Rapanos). The procedures included in this memorandum replace the coordination procedures contained in the January 2003 EPA/Army guidance implementing the SWANCC decision (but leaves the remainder of that guidance unaffected) and articulate new coordination procedures for JDs affected by Rapanos. This memorandum does not nullify or supersede the 1990 Geographic Jurisdiction Memorandum of Agreement (MOA), including its special case provisions.
National List of Plant Species that Occur in Wetlands: California (Region O)
PDF, 34.1MB
Mar 28 08
Porter B. Reed, Jr
National Wetlands Inventory, USFWS
May 1988
Regional Supplement to the Corps of Engineers Wetland Delineation Manual: Western Mountains, Valleys, and Coast Region
PDF, 5.9MB
Dec 04 08
U.S. Army Corps of Engineers
Engineer Research and Development Center, Wetlands Regulatory Assistance Program
April 2008
U.S. ARMY CORPS OF ENGINEERS JURISDICTIONAL DETERMINATION FORM INSTRUCTIONAL GUIDEBOOK
PDF, 5.8MB
Jan 31 08
U.S. Army Corps of Engineers and the Environmental Protection Agency
U.S. Army Corps of Engineers
May 2007
This document contains instructions to aid field staff in completing the Approved Jurisdictional Determination Form ("JD form"). This document is intended to be used as the U.S. Army Corps of Engineers Regulatory National Standard Operating Procedures for conducting an approved jurisdictional determination (JD) and documenting practices to support an approved JD until this document is further revised and reissued.
Workshop Presentation: Wetland Hydrology-- Detailed explanation of parameters use for jurisdictional delineation
PDF, 2MB
Dec 04 08
Dr. Robert Curry
Elkhorn Slough Coastal Training Program
November 2008