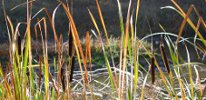 Archived Workshops/References
Ohlone Tiger Beetle: Public Site
Description
The Ohlone tiger beetle (Cicidela Ohlone) is a federally listed endangered species found in only a handful of populations near the city of Santa Cruz, California. Since the species was listed in 2001, most populations have declined precipitously, probably because of lack of appropriate levels of disturbance. Vegetation is closing in on roads and trails that the Ohlone tiger beetle has traditionally used as habitat. Our website on the species contains information about the species' populations. Because we are concerned about vandalism, collection, and other negative impacts to the species should specific population information become more widely available, access to the website featuring information on the Ohlone tiger beetle is by password only. Please email us if you would like access in order to better manage populations or otherwise improve the conservation of the species.
Documents and Publications
TITLE
DATE ADDED
AUTHOR
SOURCE
DESCRIPTION
PEER-REVIEWED PUBLICATIONS
Artificial bare patches increase habitat for the endangered Ohlone tiger beetle (Cicindela ohlone)
PDF, 330KB
Jun 13 12
Cornelisse, Tara M. Vasey, Michael C. Holl, Karen D. Letourneau, Deborah K.
Journal of Insect Conservation
April 4, 2012
For the conservation of the endangered Ohlone tiger beetle, we recommend continued creation of scraped plots every 2 years in order to maintain bare ground and to ensure maximum usage by female C. ohlone as oviposition sites.
OTHER INFORMATION
Review of Historical and Current Land Use Practices, Characterization of Suitable Habitat, and Habitat Management Recommendations for the Endangered Ohlone Tiger Beetle, Cicindela ohlone (Coleoptera: Cicindelidae)
PDF, 8.7MB
Jan 03 12
Richard A. Arnold, PhD; James W. Bartolome, PhD, CRM; Lawrence D. Ford, PhD, CRM and; Devii R. Rao, MS
Ventura Fish & Wildlife Office U.S. Fish & Wildlife Service
September 2011
To manage habitat at remaining occupied sites to benefit the OTB, potentially restore degraded unoccupied sites, and ultimately recover this species, scientific information about compatible management activities and their effects on the OTB and its habitat is needed.
Links