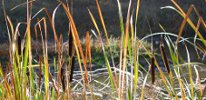 Archived Workshops/References
Riparian Restoration
Description
Riparian restoration is responding to sensitive species and habitat degradation as well as issues of ecosystem services, such as flood control, water quality, and recreation. The Coastal Training Program develops educational forums to increase our understanding of riparian restoration by: 1) networking practitioners so that they can learn from each other; 2) organizing workshops to highlight the latest science, technology, and practices; 3) organizing field trips to scientifically review and critique ongoing riparian projects, and; 4) maintaining a website dedicated to providing the latest science on riparian restoration.
Training Programs
Documents and Publications
TITLE
DATE ADDED
AUTHOR
SOURCE
DESCRIPTION
PEER-REVIEWED PUBLICATIONS
The Natural Flow Regime
PDF, 1.7MB
Oct 27 05
Poff, N. Leroy Allan, J. David Bain, Mark B. Karr, James R. Prestegaard, Karen L. Richter, Brian D. Sparks, Richard E. Stromberg, Julie C.
Bioscience 47(11):769-784
1997
Describes aspects of riparian flow in understandable terms. This applies very well to riparian restoration, as we attempt to understand this aspect of our work.
OTHER INFORMATION
California Salmonid Stream Habitat Restoration Manual. Part XI: Riparian Habitat Restoration
PDF, 2.4MB
Oct 26 05
California Department of Fish & Game
Elkhorn Slough Coastal Training Program
October 2003
The Practical Streambank Bioengineering Guide
PDF, 3.4MB
Oct 25 05
Bentrup, Gary Hoag, J Chris
Interagency Riparian/Wetland Project USDA/NRCS
May 1998
The Practical Stream Bioengineering Guide is a user's guide to natural stream stabilization techniques for the arid and semi-arid Great Basin and Intermountain West. This guide was produced primarily for the professional conservationist who provides technical resource assistance to individual landowners. The goal of this publication is to provide an easy to understand guide for coordinators of riparian restoration projects.
Links