threatened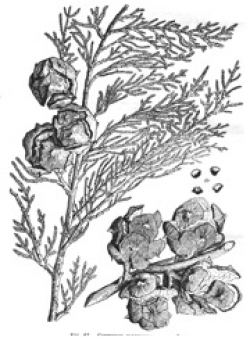 Illustration from Sudworth (1908).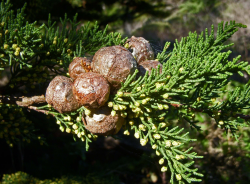 Photo © 2009 Neal Kramer.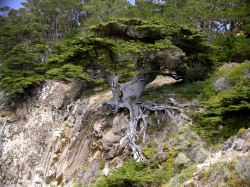 Photo taken at Point Lobos © 2009 Keir Morse.
---



This fact sheet was prepared by Grey F. Hayes and Dean W. Taylor under award NA04N0S4200074 from the National Oceanic and Atmospheric Administration (NOAA), U.S. Department of Commerce (DOC). The statements, findings, conclusions, and recommendations are those of the authors and do not necessarily reflect the views of the NOAA or the DOC.
© Copyright 2006, Elkhorn Slough Coastal Training Program
Last updated: Jan 31, 2015 11:07
Common Names - Monterey cypress
Family - Cupressaceae (Cypress Family)
State Status - none
Federal Status - none
Habitat
Granitic cliffs and bluffs directly fronting the open ocean, 10–30 m.
Key Characteristics
Small tree to 25 m tall in the wild, crown asymmetric, often open, flat-topped to widely conic in age; bark fibrous, thin, rich brown aging gray, broken into vertical strips; needles scale-like, bright to dark green, not glaucous; seed cone 20–32(38) mm diameter, spheric to elliptic, brown, shiny when fresh, more-or-less opening at maturity; seed 2.5–5 mm, not glaucous, dull red-brown to black; attachment scar more-or-less white, conspicuous (Bartel 2013). Distinguished from other native and exotic species of Hesperocyparis by large cone-size.
Flowering Period
Identifiable year-round (male cones—February to March; female cones—March to May, ripening in August).
Reference Populations
17-Mile Drive, Pt. Lobos State Natural Reserve (Monterey County).
Global Distribution
Endemic to the Monterey Peninsula, Monterey County (CNPS 2010).
Conservation
Perhaps the most common native tree in cultivation in coastal California, and therefore not in danger of immediate extinction, also cultivated in Europe and elsewhere. It has effectively naturalized along the Pacific Coast from Astoria, Oregon southward to Santa Barbara, California. Native stands are not stable from a lack of reproduction owing to tourist trampling.
References
Bartel, J. A. 2013. Hesperocyparis macrocarpa, in Jepson Flora Project (eds.). Jepson eFlora. http://ucjeps.berkeley.edu/cgi-bin/get_IJM.pl?tid=89298 [accessed 28 January 2015].
California Natural Diversity Database (CNDDB). 2015. California Department of Fish and Wildlife RareFind 5. http://www.dfg.ca.gov/biogeodata/cnddb/mapsanddata.asp [accessed 11 January 2015].
CNPS, Rare Plant Program. 2010. Hesperocyparis macrocarpa, in Inventory of Rare and Endangered Plants (online edition, v8-02). California Native Plant Society, Sacramento, CA. http://www.rareplants.cnps.org/detail/536.html [accessed 28 January 2015].
Sudworth, G. B. 1908. Forest Trees of the Pacific Slope. United States Government Printing Office, Washington, D.C.