endangered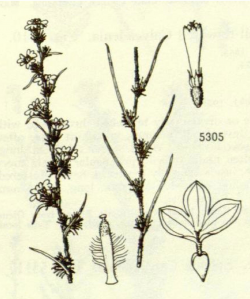 Illustration from Ferris (1960).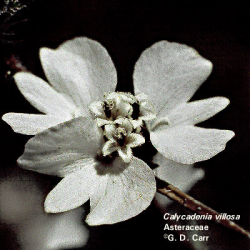 Photo © Gerald D. Carr.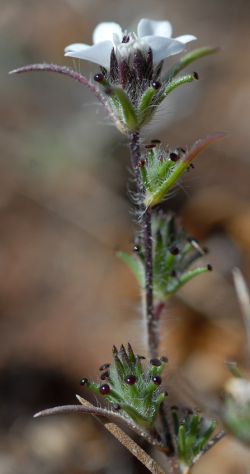 Photo taken in San Luis Obispo Co. © 2011 Chris Winchell.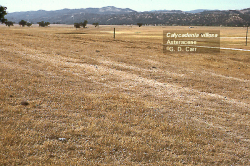 Photo © Gerald D. Carr.
---



This fact sheet was prepared by Grey F. Hayes, Dean W. Taylor, and Dylan Neubauer under award NA04N0S4200074 from the National Oceanic and Atmospheric Administration (NOAA), U.S. Department of Commerce (DOC). The statements, findings, conclusions, and recommendations are those of the authors and do not necessarily reflect the views of the NOAA or the DOC.
© Copyright 2006, Elkhorn Slough Coastal Training Program
Last updated: Mar 24, 2016 19:17
Common Names - dwarf calycadenia, dwarf rosin-weed
Family - Asteraceae (Sunflower Family)
State Status - none
Federal Status - none
Habitat
Sparse grasslands on sterile non-productive soils (Franciscan formation, serpentine, or, at Camatta Canyon, San Luis Obispo County, gravelly, clay-rich sedimentary material), 250–850 m.
Key Characteristics
Annual herb, stems to 4.5 dm tall, densely long-hairy and occasionally reddish above, unbranched or branches few and ascending or many and spreading; basal lvs generally many, stiff, linear, often persistent when senescent, 2–5 cm long; flower heads 1–3 per node, peduncle bracts 3–12, these bearing a tack-shaped terminal gland, phyllaries and paleae generally without tack-shaped glands; corollas white fading pinkish; ray flowers 1–4, cypselae smooth, densely appressed long-hairy; disk flowers 5–15, cypselae appressed-hairy, especially on angles; ca. 10 lanceolate acuminate disk pappus scales (Carr and Carr 2013).
Flowering Period
May to October
Reference Population
Camatta Canyon, Los Padres National Forest (San Luis Obispo County)
Global Distribution
Endemic to the central and southern Outer South Coast Ranges and far northwestern Transverse Ranges of California in Fresno, Monterey, San Luis Obispo, and Santa Barbara (presumed extirpated) counties.
Conservation
Gerald D. Carr (Carr 1977, 1999) has noted variability within this species that suggests two taxa: 1) the northern, typical form in Monterey County ("villosa"), with a more erect, sparingly branched growth habit, showy flower heads, and unequally lobed ray flowers; and 2) a southern form ("depressa"), with a shorter, highly branched growth habit, smaller flower heads, and equally lobed ray flowers. The Santa Barbara occurrence was not listed in Smith (1998), and is based on a single 1885 collection, which has not been relocated. The Kern County report was not listed in Twisselmann (1967) and is probably based on C. spicata.
Prior to 1999, only two localities were documented, collectively composed of less than 1000 plants (Wilken 2000). Field work conducted by the Santa Barbara Botanic Garden located at least 83 occurrences, all restricted to southern Monterey and northern San Luis Obispo counties. Most documented occurrences occur on Fort Hunter Liggett, where some have been impacted by military training activities; the one occurrence at Camp Roberts is under putative protection by restricting access; the Los Padres National Forest occurrence is behind a pipe barrier, which has reduced OHV impacts.
References
Carr, G. D. 1977. A cytological conspectus of the genus Calycadenia (Asteraceae): an example of contrasting modes of evolution. American Journal of Botany 64:694–703.
Carr G. D. 1999. Calycadenia, in Systematics and evolution of the Madiinae: tarweeds to silverswords gallery of genera, University of Hawaii at Manoa, Department of Botany faculty profiles. http://www.botany.hawaii.edu/faculty/carr/cal_vil.htm [accessed 7 January 2015].
Carr, R. L. and G. D. Carr. 2013. Calycadenia, in Jepson Flora Project (eds.) Jepson eFlora. http://ucjeps.berkeley.edu/cgi-bin/get_IJM.pl?tid=1889 [accessed 7 January 2015].
California Natural Diversity Database (CNDDB). 2015. California Department of Fish and Wildlife RareFind 5. http://www.dfg.ca.gov/biogeodata/cnddb/mapsanddata.asp [accessed 7 January 2015].
CNPS, Rare Plant Program. 2010. Calycadenia villosa, in Inventory of Rare and Endangered Plants (online edition, v8-02). California Native Plant Society, Sacramento, CA. http://www.rareplants.cnps.org/detail/1602.html [accessed 7 January 2015].
Ferris R. S. 1960. Illustrated flora of the Pacific States, Vol. IV. Stanford University Press, Stanford, CA.
Smith, C. E. 1998. A flora of the Santa Barbara Region, California. Santa Barbara Botanic Garden & Capra Press, Santa Barbara, CA.
Twisselman, E. C. 1967. A flora of Kern County, California. Wasmann Journal of Biology 25:1–395.
Wilken, D. H. 2000. Rare plant survey at Fort Hunter Liggett: purple amole (Chlorogalum purpureum), dwarf calycadenia (Calycadenia villosa), and Santa Lucia mint (Pogogyne clareana). Technical Report 2. Santa Barbara Botanic Garden, Santa Barbara, CA.