endangered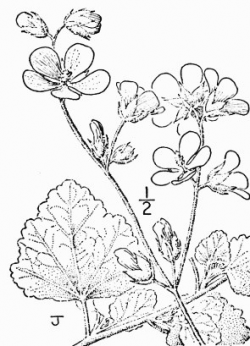 Illustration from Abrams (1951).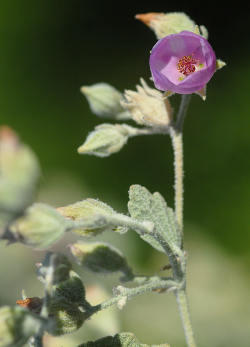 Photo taken west of San Antonio Reservoir, Monterey County © 2011 Chris Winchell.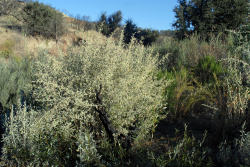 Photo © 2011 Chris Winchell.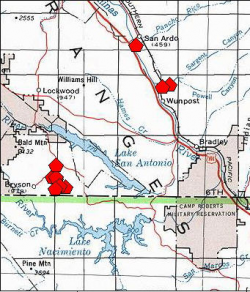 A red polygon indicates an extant occurrence.
---



This fact sheet was prepared by Grey F. Hayes and Dean W. Taylor under award NA04N0S4200074 from the National Oceanic and Atmospheric Administration (NOAA), U.S. Department of Commerce (DOC). The statements, findings, conclusions, and recommendations are those of the authors and do not necessarily reflect the views of the NOAA or the DOC.
© Copyright 2006, Elkhorn Slough Coastal Training Program
Last updated: Sep 26, 2007 20:05
Common Names - Abbott's bush-mallow
Family - Malvaceae (Mallow Family)

State Status - none
Federal Status - none
Habitat
Riparian sites in gravelly alluvium, frequently flooded, growing in sandbar willow (Salix exigua var. hindsiana) thickets; 135-490 m.

Key Characteristics
Delicate, slender shrub < 1.5 m tall, stems and leaves densely white pubescent with fine stellae as well as unbranched trichomes, branches slender; leaf blade < 5 cm long, round, shallowly 3-lobed, hairs on upper and lower surface ± =; inflorescence panicle-like, flowers 3–4 per node; bracts few; flowering stalks < 1 cm long; flower buds acuminate; calyx ± 1 cm long, petals 1–2 cm long, light pink; filament column < petals; fruit segments dark brown, reniform (Slotta 2013).
Flowering Period
May to October

Reference Population
Sargent Creek, San Ardo (Monterey County).

Global Distribution
Endemic to California in the upper Salinas River watershed in Monterey County.

Conservation
Only known from 12 occurrences (CNPS 2010), the distribution and abundance of this species requires field work—isolated colonies may occur along the length of the Salinas River. Prior to 1990, this species was known only from the type collection dating from 1889 from the "Salinas River" and was presumed extinct. Many of the southerly colonies near Hesperia School, which essentially constitute one population, occur in an underdeveloped rural residential subdivision and are vulnerable. Populations near Sargent Creek, San Ardo are vulnerable to oil extraction and exploration. Other threats include grazing and road construction (CNPS 2010).

References
Abrams, L. R. 1951. Illustrated Flora of the Pacific States, Vol. 3. Stanford University Press, Palo Alto, CA.
CNPS, Rare Plant Program. 2010. Malacothamnus abbottii, in Inventory of Rare and Endangered Plants (online edition, v8-02). California Native Plant Society, Sacramento, CA. http://www.rareplants.cnps.org/detail/1058.html [accessed 20 February 2015].
Slotta, T. 2013. Malacothamnus abbottii, in Jepson Flora Project (eds.). Jepson eFlora, http://ucjeps.berkeley.edu/cgi-bin/get_IJM.pl?tid=32512 [accessed 20 February 2015].