threatened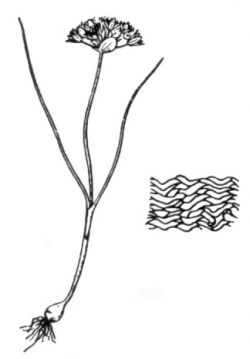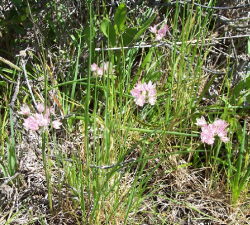 Photo taken on a coastal bluff north of Arroyo del Oso, San Luis Obispo County © 2006 by Dave Hacker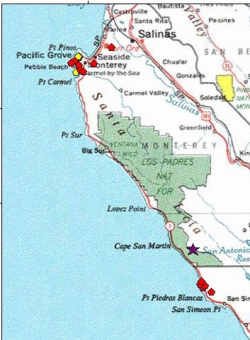 A red polygon indicates an extant occurrence; yellow indicates the occurrence has been extirpated.
---



This fact sheet was prepared by Dylan M. Neubauer under award NA04N0S4200074 from the National Oceanic and Atmospheric Administration (NOAA), U.S. Department of Commerce (DOC). The statements, findings, conclusions, and recommendations are those of the authors and do not necessarily reflect the views of the NOAA or the DOC.
© Copyright 2006, Elkhorn Slough Coastal Training Program
Last updated: Sep 26, 2007 20:04
Common Names - Hickman's onion
Family - Alliaceae (Onion or Garlic Family)

State Status - none
Federal Status - none
Habitat
Coastal prairie or grassy openings in Monterey pine (Pinus radiata) forest or the edges of vernal pools, usually on damp clay-loam soils (but not heavy adobe), underlain by sandstone or shale, associated with purple needlegrass (Stipa pulchra), California oat grass (Danthonia californica), western fescue (Festuca occidentalis), and blue-eyed grass (Sisyrinchium bellum).
Key Characteristics
Geophytic perennial 5–17 cm tall; bulb 8–12 mm long, ovoid to ± spheric, outer bulb-coat cells transversely elongate, in obscure, wavy herringbone pattern; leaves 2, ± cylindric, 1.5 x stem; umbel 4–15-flowered, pedicels 4–12 mm long; perianth parts 5–7 mm long, persistent, spreading, erect in fruit, lanceolate to narrowly ovate, entire, white to pale pink; ovary crests none or of 3 rudimentary lobes, central on capsule when developed (McNeal 2013).
Flowering Period
March to May
Reference Populations
Fort Ord National Monument, Veterans Memorial Park (Monterey County)
Global Distribution
Endemic to the central California coast in Monterey and San Luis Obispo counties (CNPS 2011).
Conservation
Though many populations in Carmel were extirpated by residential development in the 1980s, a large, robust population in the City of Carmel's Mission Trail Nature Preserve (Martin's Meadow) is still extant (CNDDB EO #5) (Nedeff, pers. comm.). The area is mowed annually by the city to reduce fire hazard. The occurrence in Veterans Memorial Park is heavily trampled and declining. Light grazing is compatible with habitat. A population not documented in CNDDB at Salmon Creek is reported in a grazing allotment (Norman 1994, cited by Stephenson and Calcarone 1999, shown on the map as a purple star). Another Big Sur occurrence near Plaskett Creek was surveyed in 2013 by the CNPS Rare Plant Treasure Hunt and the population is still extant. Portions of Fort Ord National Monument occurrences appear stable but in the past have been damaged by wild-pig rooting, grading, and other activities. Monterey Peninsula occurrences are endangered by expansion of residential development. The occurrences on the Hearst Ranch are not fully protected (California Coastal Commission). The most comprehensive data on habitat characteristics is Stromberg et al. (2001).

References
California Coastal Commission. No date. Hearst Ranch Conservation Easement Area Summary of Resources.
CNPS, Rare Plant Program. 2011. Allium hickmanii, in Inventory of Rare and Endangered Plants (online edition, v8-02). California Native Plant Society, Sacramento, CA. http://www.rareplants.cnps.org/detail/84.html [accessed 27 February 2015].
McNeal, D. W. 2013. Allium, in Jepson Flora Project (eds.). Jepson eFlora, http://ucjeps.berkeley.edu/cgi-bin/get_IJM.pl?tid=12585 [accessed 27 February 2015].
Nedeff, N. Personal communication [1 June 2015].
Norman, J. D. 1994. Habitat survey for the endangered Smith's blue butterfly (Euphilotes enoptes smithii) in the Monterey Ranger District, Los Padres National Forest, Monterey County, CA. Unpublished file report.

Stephenson, J. R. and G. M. Calcarone. 1999. Southern California mountains and foothills assessment: habitat and species conservation issues. General Technical Report GTR-PSW-172. Pacific Southwest Research Station, Forest Service, U.S. Department of Agriculture, Albany, CA.

Stromberg, M. R., P. Kephart, and V. Yadon. 2001. Composition, invasibility, and diversity in coastal California grasslands. Madroño 48(4):236–252.

Reviewers
Nicki Nedeff, Bruce Delgado (June 2015).