endangered
Illustration from Abrams (1944)
Photo taken at Marina State Beach © 2006 by Dale Hameister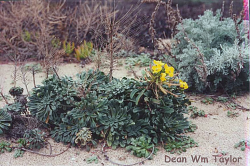 Photo taken at Marina State Beach © 1995 by Dean W. Taylor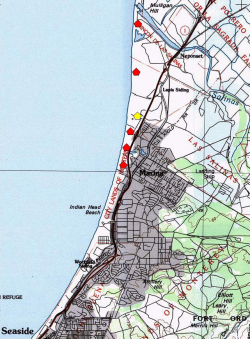 A red polygon indicates an extant occurrence; yellow indicates the occurrence has been extirpated
---



This fact sheet was prepared by Grey F. Hayes and Dean W. Taylor under award NA04N0S4200074 from the National Oceanic and Atmospheric Administration (NOAA), U.S. Department of Commerce (DOC). The statements, findings, conclusions, and recommendations are those of the authors and do not necessarily reflect the views of the NOAA or the DOC.
© Copyright 2006, Elkhorn Slough Coastal Training Program
Last updated: Jun 2, 2015 15:18
Common Names - Yadon's coast wallflower
Family - Brassicaceae (Mustard Family)

State Status - state endangered
(September 1984)
Federal Status - federal endangered
(June 1992)
Habitat
Coastal dunes, mostly on the seaward edge of stabilized fore-dunes, growing in more saline sites than other E. menziesii races and E. ammophilum
Key Characteristics
Often a perennial to 5 dm tall from a taproot, the caudex generally highly branched; leaves subentire to lobed, very fleshy, tapering gradually to broad margined petioles as often longer than the blades; inflorescence at first with the flowers dense and crowded (elongating in fruit), petals 2–3 cm long, brilliant yellow; fruit 3–8 cm long.


Flowering Period
March to June

Reference Population
Marina State Beach (Monterey County)

Global Distribution
Endemic to dunes in the Monterey Bay region

Conservation
Erysimum menziesii was treated by Price (1987, 1993) as four geographic subspecies (including E. concinnum), but the formal taxonomy has not been validly published. Both the State and Federal listing status apply to the nominate species—all infrataxa are automatically included even if undescribed. Most occurrences are located in publicly owned beaches, and thus are very vulnerable to recreational activity. One occurrence has been impacted by sand mining. On the order of 10,000 plants total are known.
References
Abrams, L. 1944. Illustrated Flora of the Pacific States, Vol. 2. Stanford University Press, Stanford, CA.

Price, R. A. 1987. Systematics of the Erysimum capitatum alliance (Brassicaceae) in North America. Ph.D. Dissertation, University of California, Berkeley.