threatened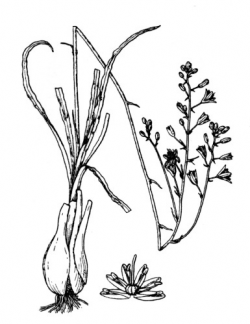 Illustration from Abrams (1940).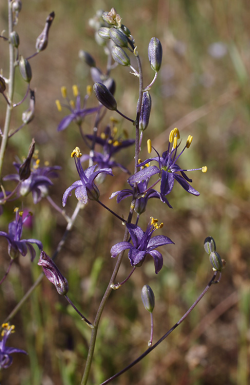 Photo taken at Fort Hunter-Liggett © 2006 Aaron Schusteff.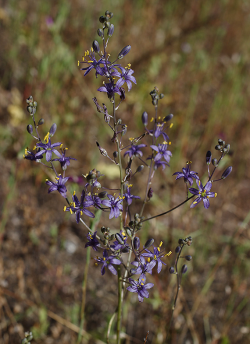 Photo taken at Fort Hunter-Liggett © 2006 Aaron Schusteff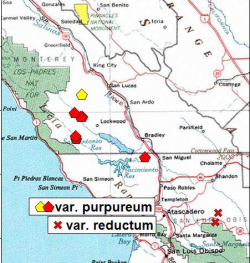 A red polygon indicates an extant occurrence; yellow indicates the occurrence has been extirpated.
---



This fact sheet was prepared by Dr. Dean W. Taylor, Dr. Grey Hayes, Dylan M. Neubauer under award NA04N0S4200074 from the National Oceanic and Atmospheric Administration (NOAA), U.S. Department of Commerce (DOC). The statements, findings, conclusions, and recommendations are those of the authors and do not necessarily reflect the views of the NOAA or the DOC.
© Copyright 2006, Elkhorn Slough Coastal Training Program
Last updated: Mar 26, 2016 18:56
Common Names - purple amole
Family - Agavaceae (Century Plant Family)
State Status - none
Federal Status - federal threatened
(March 2000)
Habitat
Poorly vegetated, infertile, gravelly or clay soil patches in blue oak woodland or chaparral edges, ± 300 meters.
Key Characteristics
Bulbous perennial; leaves 3–7, basal, linear, wavy-margined; inflorescence 25–40 cm tall, few-branched, flowers 7–30; pedicels 4–10 mm, generally > flowers, slender; perianth parts recurved, deep blue to purple, 5–7 mm long; anthers 1 mm, yellow, style exserted, 5–6 mm long; fruit 3 mm (Jernstedt 2013).


Flowering Period
April to June

Reference Population
Jolon Store (Monterey County).
Global Distribution
Endemic to the eastern base of the southern Santa Lucia Mountains of California (southern Monterey and northern San Luis Obispo counties).
Conservation
Wilken (2010) estimated 300,000 plants in existence, with over 230,000 restricted to an area of about 90 hectares on Camp Roberts, San Luis Obispo County, run by the California Army National Guard. There are also populations over a much larger area at Fort Hunter-Liggett, run by the U.S. Army (USFWS 2000). Loss and alteration of habitat, destruction by construction and use of military training facilities, disturbance by military training activities, invasion of exotic annual grasses, alteration of fire regimes, and domestic livestock grazing are potential factors that threaten the remaining populations of purple amole in these areas (USFWS 2000).

Monitoring programs on Fort Hunter-Liggett initiated in 1998 (Niceswanger 2001) concluded that life history characteristics of purple amole were highly variable year to year due to dormancy and infrequent flowering and seed production.

A study conducted by the U.S. Army Corps of Engineers (Guretzky et al. 2005) on populations at Fort Hunter-Liggett concluded that reproduction and seed set is closely related to plant size or maturity; dormancy can extend to at least four years; no clear relationships are apparent between abundance and disturbance (e.g., gophers); and the presence of the plant is positively correlated with native plant cover and presence of biological soil crusts.
The Camatta Canyon amole (C. purpureum var. reductum, federally threatened and state-listed as rare) is restricted to two occurrences in San Luis Obispo County (CNPS 2012). It differs from var. purpureum by having a shorter inflorescence (10-20 cm), a trait maintained in cultivation. The two varieties produce fertile seed when artificially crossed (Jernstedt 2013).
The flowers of C. purpureum are not vespertine unlike the common soap root (C. pomeridianum). The species seems most closely related to C. parvifolium of southern California, a plant with pinkish tepals and similar UV absorption patterns (Jernstedt 1980). Bulbs require ca. > 4 years in cultivation to flower.
References
Abrams, L. R. 1940. Illustrated Flora of the Pacific States, Vol. 1. Stanford University Press, Stanford, CA.
CNPS, Rare Plant Program. 2012. Chlorogalum purpureum var. purpureum, in Inventory of Rare and Endangered Plants (online edition, v8-02). California Native Plant Society, Sacramento, CA. http://www.rareplants.cnps.org/detail/465.html [accessed 2 February 2015].
Guretzky, J. A. et al. 2005. Life history traits of the threatened purple amole (Chlorogalum purpureum var. purpureum) Fort Hunter Liggett, California. U.S. Army Corps. Of Engineers, Engineer Research and Development Center, Constructing Engineering Research Laboratory, ERDC/CERL TR-05-32, November 2005.
Jernstedt, J. A. 1980. UV absorption by flowers of Chlorogalum (Liliaceae). Bulletin of the Torrey Botanical Club 107(2):163–171.
Jerstedt, J. A. 2013. Chlorogalum purpureum var. purpureum, in Jepson Flora Project (eds.). Jepson eFlora, http://ucjeps.berkeley.edu/cgi-bin/get_IJM.pl?tid=56472 [accessed 2 February 2015].
Niceswanger, J. 2001. Purple Amole (Chlorogalum purpureum var. purpureum) monitoring report. Results summarized for monitoring 1998, 1999 and 2000. Engineering & Environment, Inc., Fort Hunter-Liggett, California.

U.S. Fish and Wildlife Service (USFWS). 2000. Endangered and threatened wildlife and plants: determination of threatened status for Chlorogalum purpureum var. purpureum (purple amole), a rare plant from the South Coast Ranges of California. Federal Register 65(54):14878–14888.