endangered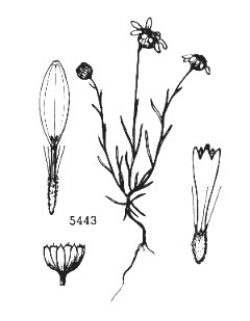 Illustration from Ferris (1960).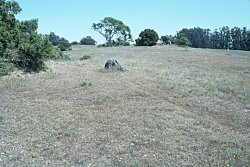 Photo taken at Edgewood County Park © Dean W. Taylor.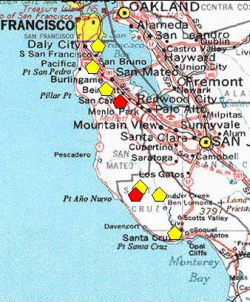 A red polygon indicates an extant occurrence; yellow indicates the occurrence has been extirpated.
---



This fact sheet was prepared by Grey F. Hayes and Dean W. Taylor under award NA04N0S4200074 from the National Oceanic and Atmospheric Administration (NOAA), U.S. Department of Commerce (DOC). The statements, findings, conclusions, and recommendations are those of the authors and do not necessarily reflect the views of the NOAA or the DOC.
© Copyright 2006, Elkhorn Slough Coastal Training Program
Last updated: Jan 24, 2015 18:06
Common Names - white-rayed pentachaeta
Family - Asteraceae (Sunflower Family)

State Status - state endangered
(June 1992)
Federal Status - federal endangered
(February 1995)
Habitat
Sparsely vegetated sites in coastal prairie or serpentine bunchgrass grasslands; 35-620 m.
Key Characteristics
Annual herb 6–17 cm tall, stems erect, only sparingly branched from base, sparsely hairy; leaves < 4.5 cm long and about 1 mm wide, glabrous; heads <= 4 per plant, peduncle glabrous to short-hairy; involucre widely bell-shaped; phyllaries elliptic to obovate, glabrous; ray flowers 7–16; ray 3–6 mm, white, sometimes reddish abaxially; disk flowers 16–38; corolla 5-lobed, yellow; pappus bristles 0 or 5, slightly expanded at base (Keil and Lane 2013).
Flowering Period
March to May

Reference Population
Edgewood County Park (San Mateo County).
Global Distribution
Endemic to central coastal California in Marin (presumed extirpated), Santa Cruz (presumed extirpated), and San Mateo counties (CNPS 2010).
Conservation
Now reduced to one extended population bisected by Highway 280 in San Mateo County. This species was seen near Boulder Creek in 1893 and on beach cliffs near Santa Cruz in 1933—now both extirpated. Two other occurrences in Santa Cruz County near Eagle Rock, and on the divide between Scott Creek and Mill Creek, seen in 1955 and 1954 respectively, may be extant—field work is needed. This species was last documented for Marin County in 1980 but was extirpated by motorcycles.

References
CNPS, Rare Plant Program. 2010. Pentachaeta bellidiflora, in Inventory of Rare and Endangered Plants (online edition, v8-02). California Native Plant Society, Sacramento, CA. http://www.rareplants.cnps.org/detail/1241.html [accessed 21 February 2015].
Ferris, R. S. 1960. Illustrated flora of the Pacific States, vol. 4. Stanford University Press, Palo Alto, CA.
Keil, D. J. and M. A. Lane. 2013. Pentachaeta bellidiflora, in Jepson Flora Project (eds.). Jepson eFlora, http://ucjeps.berkeley.edu/cgi-bin/get_IJM.pl?tid=4279 [accessed 21 February 2015].