threatened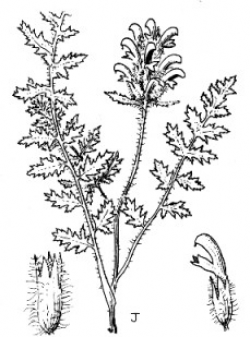 Illustration from Abrams (1951).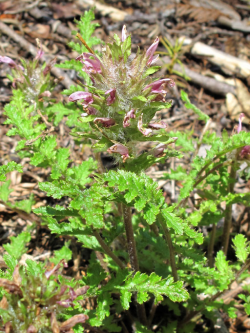 Photo taken at Pico Blanco Boy Scout Camp, Monterey County © 2011 Dylan Neubauer.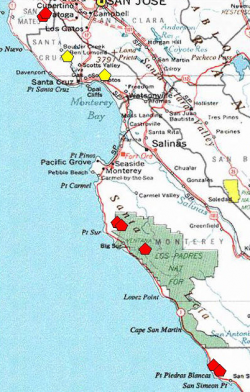 A red polygon indicates an extant occurrence; yellow indicates the occurrence has been extirpated.
---



This fact sheet was prepared by Grey F. Hayes, Dean W. Taylor, and Dylan M. Neubauer under award NA04N0S4200074 from the National Oceanic and Atmospheric Administration (NOAA), U.S. Department of Commerce (DOC). The statements, findings, conclusions, and recommendations are those of the authors and do not necessarily reflect the views of the NOAA or the DOC.
© Copyright 2006, Elkhorn Slough Coastal Training Program
Last updated: Jun 2, 2015 16:27
Common Names - Dudley's lousewort
Family - Orobanchaceae (Broomrape Family)

State Status - state rare
(September 1979)
Federal Status - none
Habitat
Shaded, summer-moist banks and cliffs in cool, moist riparian sites in coast redwood (Sequoia sempervirens) forests.
Key Characteristics
Perennial herbs, generally ± hairy; stem 10–30 cm tall; leaves basal, 3–26 cm, > inflorescence, lance-oblong, segments 15–25, oblong to ovate, doubly toothed to lobed, present at flowering; inflorescence 2–6 cm, generally <= leaves; proximal bracts > flowers; calyx 10–14 mm, tomentose; corolla 17–24 mm, club-like, pink or purple to purple-red, with darker markings, glabrous, upper lip hooded, lower lip with lobes pointed; anthers 1.5–2.5 mm, generally included, base acute, filaments glabrous. Plants from Arroyo de la Cruz in San Luis Obispo County are smaller, have leaves < inflorescence, and anthers often exserted with base ± acuminate. The common P. densiflora has a deep red to red-purple corolla with a much shorter lower lip in relation to the galea (Vorobik 2013). There is likely a hemiparasitic relationship with Douglas-fir, though this has not yet been studied (Nedeff, pers. comm.).
Flowering Period
March to June

Reference Population
Portola State Park (San Mateo County).
Global Distribution
Endemic to central California in the Santa Cruz Mountains and Outer South Coast Ranges in Monterey, Santa Cruz (presumed extirpated), San Luis Obispo, and San Mateo counties (CNPS 2012, Vorobik 2013).
Conservation
Numerous small populations of this plant occur along the North Fork of the Little Sur River (Monterey County), with notably large numbers within the Pico Blanco Boy Scout Camp. which have been monitored by the CNPS Monterey Bay Chapter for more than 25 years (Nedeff, pers. comm.). Ca. 1000 plants were observed at the Boy Scout Camp in 2011 and again in 2016. Since 2013, with the creation of a new Conservation Plan, the Boy Scouts have been eager collaborators in the care and maintenance of the lousewort on their property (Benoit, Hauser, pers. comms.).
The historical location ("Aptos," 1884) in Santa Cruz County has not been relocated, and may have been extirpated as the result of logging in the Aptos Creek watershed that intensified after this report.
The plants in the Arroyo de la Cruz region of San Luis Obispo county are morphologically differentiated and occur in coastal scrub rather than forest; these may warrant taxonomic recognition.
Indian warrior (P. densiflora), is much more common in our region and occupies a wider array of generally more xeric sites.

Reference
Abrams, L. R. 1951. Illustrated Flora of the Pacific States, Vol. 3. Stanford University Press, Palo Alto, CA.
Benoit, B. Personal communication [April 2016].
California Natural Diversity Database (CNDDB). 2015. California Department of Fish and Wildlife RareFind 5. http://www.dfg.ca.gov/biogeodata/cnddb/mapsanddata.asp [accessed 21 February 2015].
CNPS, Rare Plant Program. 2012. Pedicularis dudleyi, in Inventory of Rare and Endangered Plants (online edition, v8-02). California Native Plant Society, Sacramento, CA. http://www.rareplants.cnps.org/detail/1220.html [accessed 21 February 2015].
Hauser, C. Personal communication [April 2016].
Nedeff, N. Personal communication [1 June 2015].
Vorobik, L. A. 2013. Pedicularis dudleyi, in Jepson Flora Project (eds.). Jepson eFlora, http://ucjeps.berkeley.edu/cgi-bin/get_IJM.pl?tid=36570 [accessed 21 February 2015].
Reviewer
Nicki Nedeff (June 2015).