threatened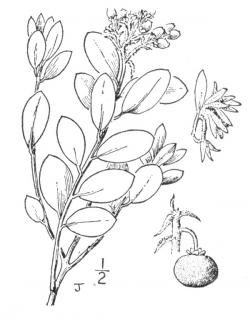 Illustration from Abrams (1951).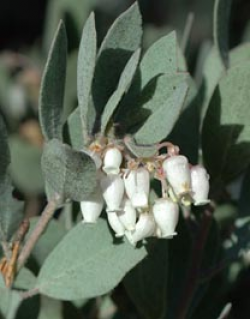 Photo taken at Bonny Doon Ecological Reserve © 2006 Dylan Neubauer.
Photo © 2006 Dylan Neubauer.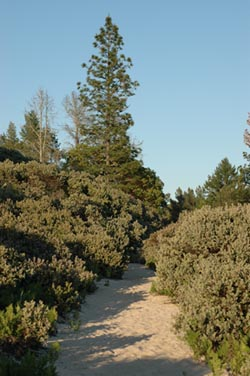 Photo © 2006 Dylan Neubauer.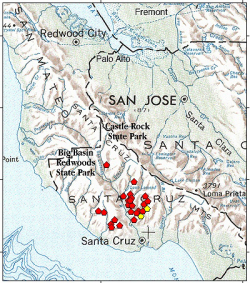 A red polygon indicates an extant occurrence; yellow indicates the occurrence has been extirpated.
---



This fact sheet was prepared by Dylan M. Neubauer under award NA04N0S4200074 from the National Oceanic and Atmospheric Administration (NOAA), U.S. Department of Commerce (DOC). The statements, findings, conclusions, and recommendations are those of the authors and do not necessarily reflect the views of the NOAA or the DOC.
© Copyright 2006, Elkhorn Slough Coastal Training Program
Last updated: Mar 24, 2016 19:08
Common Names - Bonny Doon manzanita
Family - Ericaceae (Heath Family)

State Status - none
Federal Status - none
Habitat
Forming a successional "sandhill chaparral," or scattered in the understory of Pacific ponderosa pine (Pinus ponderosa var. ponderosa) forests in areas of Miocene inland marine sand deposits (Zayante series) in the southern Santa Cruz Mountains. These areas are termed variously the Zayante, Ben Lomond, or Santa Cruz sandhills (Marangio and Morgan 1987, McGraw 2004).
Key Characteristics
Erect shrub generally to 3 meters tall, bark dark red and smooth, not shredding; basal burl absent; leaves narrowly obovate or oblong-elliptic, gray, dull, appressed-canescent, in age glabrous, glaucous, base wedge-shaped, tip obtuse, margin entire, flat, petiole 3–8 mm; inflorescence racemose, 0–1-branched, nascent racemes drooping, bracts leaf-like, canescent to glabrous; berries glabrous (Parker et al. 2013).
Flowering Period
February to March (identification possible throughout the year).
Reference Populations
Bonny Doon Ecological Reserve, Henry Cowell Redwoods State Park, Quail Hollow Ranch County Park (Santa Cruz County).
Global Distribution
Endemic to the Santa Cruz Mountains of California in Santa Cruz County.
Conservation
Not readily confused with burl-forming A. crustacea ssp. crinita or obligate-seeders A. andersonii and A. sensitiva when growing in mixed populations. Much suitable habitat has been lost to sand mining and development (an estimated 60% of the sandhills habitat has been disturbed), this taxon being planted as part of restoration efforts, and partially protected by the Quail Hollow HCP. Reproduces only from seed and is also therefore threatened by fire-suppression. Isolated colonies or individual plants occurring in residential areas of the San Lorenzo River watershed are in decline from irrigation and residential landscaping. Romo (1998) has studied fecundity in relation to pollinator ecology.
The 2008 Martin Fire was centered on the Bonny Doon Ecological Reserve and burned 58% of the 559 acres. Two of the three most severely burned areas contained high concentrations of Bonny Doon manzanita, most of which were killed outright. Three years of post-fire monitoring indicated that the vegetation responded rapidly and seedlings of Bonny Doon manzanita were prolific, quickly dominating these areas. A large proportion of manzanita seedlings, especially in severely burned areas, emerged from rodent caches (Parker and Vasey 2012).
References
Abrams, L. R. 1951. Illustrated Flora of the Pacific States, Vol. 3. Stanford University Press, Palo Alto, CA.

CNPS, Rare Plant Program. 2015. Arctostaphylos silvicola, in Inventory of Rare and Endangered Plants (online edition, v8-02). California Native Plant Society, Sacramento, CA. http://www.rareplants.cnps.org/detail/43.html [accessed 1 February 2015].
Griffin, J. R. 1964. Isolated Pinus ponderosa forests on sandy soils near Santa Cruz, California. Ecology 45:410–412.
Marangio, M. S. and R. Morgan. 1987. The endangered sandhills plant communities of Santa Cruz County, pp. 267–273 in T. S. Elias, editor, Conservation and Management of Rare and Endangered Plants. California Native Plant Society, Sacramento, CA.
McGraw, J. M. 2004. The sandhills conservation and maangement plan: a strategy for preserving native biodiversity in the Santa Cruz sandhills. Prepared for The Land Trust of Santa Cruz County. http://www.santacruzsandhills.com/articles/Sandhills%20Conservation%20and%20Management%20Plan%20June%202004.pdf [accessed 10 February 2015].
Parker, V. T. and M. C. Vasey. 2012. Post-fire recovery at the Bonny Doon Ecological Reserve. San Francisco State University, Department of Biology. http://userwww.sfsu.edu/parker/bio821/papers/ParkerVaseyBonnyDoonFinalReport.pdf [accessed 1 February 2015].
Parker, V. T., M. C. Vasey, and J. E. Keeley. 2013. Arctostaphylos, in Jepson Flora Project (eds.). Jepson eFlora, http://ucjeps.berkeley.edu/cgi-bin/get_IJM.pl?tid=76569 [accessed 1 February 2015].
Romo, D. E. 1998. The effects of nectar robbing on Arctostaphylos silvicola fruit output. M.S. Thesis, San Jose State University.