threatened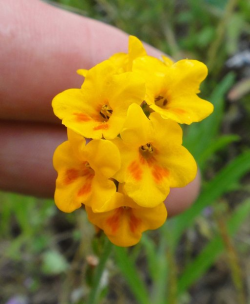 Photo taken in Contra Costa County © 2011 Neal Kramer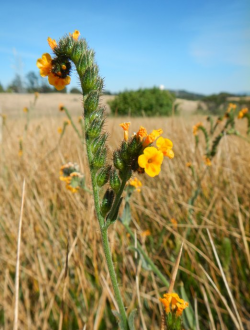 Photo taken in San Mateo County © 2014 Neal Kramer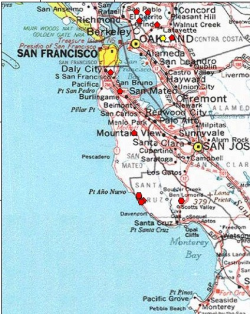 A red polygon indicates an extant occurrence; yellow indicates the occurrence has been extirpated
---



This fact sheet was prepared by Dylan M. Neubauer and Dean W. Taylor under award NA04N0S4200074 from the National Oceanic and Atmospheric Administration (NOAA), U.S. Department of Commerce (DOC). The statements, findings, conclusions, and recommendations are those of the authors and do not necessarily reflect the views of the NOAA or the DOC.
© Copyright 2006, Elkhorn Slough Coastal Training Program
Last updated: Mar 24, 2016 17:20
Common Names - bent-flowered fiddleneck
Family - Boraginaceae (Borage Family)

State Status - none
Federal Status - none
Habitat
Shaded or sheltered slopes in openings or edges of oak woodland; in herb-rich understory of coast live oak (Quercus agrifolia var. agrifolia) and big-leaf maple (Acer macrophyllum); on edges of poison oak (Toxicodendron diversilobum) thickets; and on steep grassy banks in woodland openings.
Key Characteristics
Annual herb 2–12 dm tall; pubescence harsh, irritating the skin; calyx lobes 5, ca. equal in width, not fused above base; corolla bilateral (three lower lobes and two upper), 7–10 mm, tube bent, 10-veined near base, limb 4-7 mm diameter, orange, generally with two dark spots; fruit 2.5–4 mm, sharp-tubercled, occasionally ridged; two flower morphs (heterostylous or homostylous) (Kelley and Ganders 2013). Very similar in general habit and appearance to A. intermedia, but is distinguished by its bilateral corola, bent corolla tube, and generally 2-spotted limb.
Flowering Period
March to June

Reference Populations
Polo Ranch, Scotts Valley, Scott Creek watershed and coastal slope (Santa Cruz County).
Global Distribution
Endemic to central California
Conservation
Small isolated populations in our region are confined to the Scott Creek watershed on private land and on Cal Poly's Swanton Pacific Ranch. One small inland population has not been seen in a number of years (West 2015). Another coastal population of ca. 50 plants was observed in 2016 in an area that is grazed by cows. Suitable habitat on BLM's Coast Dairies property requires surveys.
A CNPS Rare Plant Treasure Hunt survey was conducted in 2013 in Contra Costa County at an existing occurrence. Surveyors documented two colonies that appeared to be doing well despite the presence of non-native weeds.
Wide distribution in San Francisco Bay region and North Coast Ranges suggests this species is easily overlooked. Perhaps because of the unusual flower morphs within this species (Ornduff 1976), its geographic range is poorly documented. Reports from Yosemite Valley and Siskiyou County are doubtless attributable to the weedy A. intermedia.
Collections and reports from the San Joaquin Valley and Sierra Nevada Foothills are most likely heterstylous populations of A. eastwoodiae (Kelley and Ganders 2013).
This species has the lowest chromosome number (n=4) in the Boraginaceae, and amongst the lowest known for higher plants. A moth endemic to Central California, Ethmia albitogata, is known to use A. lunaris (probably along with other Amsinckia spp.) as its larval food plant (Powell 1973).
References
CNPS, Rare Plant Program. 2015. Amsinckia lunaris, in Inventory of Rare and Endangered Plants (online edition, v8-02). California Native Plant Society, Sacramento, CA. http://www.rareplants.cnps.org/detail/5.html [accessed 31 January 2015].
Kelley, R. B. and F. R. Ganders. 2013. Amsinckia, in Jepson Flora Project (eds.). Jepson eFlora, http://ucjeps.berkeley.edu/cgi-bin/get_IJM.pl?tid=13139 [accessed 31 January 2015].
Ornduff, R. 1976. The reproductive system of Amsinckia grandiflora, a distylous species. Systematic Botany 1:57–66.

Powell, J. A. 1973. A systematic monograph of New World Ethmiid moths (Lepidoptera: Gelechoioidea). Smithsonian Contributions to Zoology, Number 120. Smithsonian Institution Press, Washington, D.C.
Ray, P. M. and H. F. Chisaki. 1957. Studies on Amsinckia. American Journal of Botany 44:529–544.
West, J. A. 2015. Traversing Swanton Road. http://arboretum.ucsc.edu/pdfs/traversing-swanton.pdf [accessed 31 January 2015].