endangered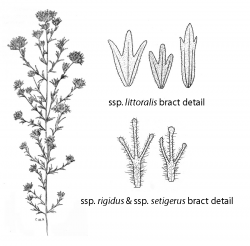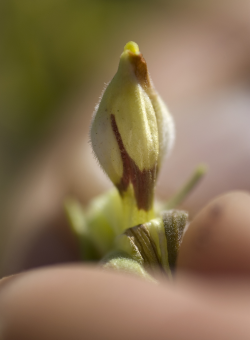 Calyx pulled back to expose corolla. Photo taken at Fort Ord © 2007 Dylan Neubauer.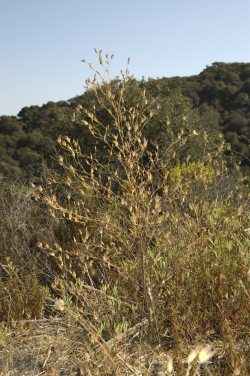 Photo taken at Fort Ord © 2007 Dylan Neubauer.
The Cordylanthus is the golden foliage in the foreground. Photo taken at Fort Ord © 2007 Dylan Neubauer.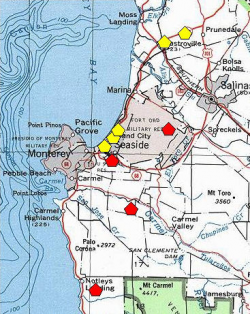 A red polygon indicates an extant occurrence; yellow indicates the occurrence has been extirpated.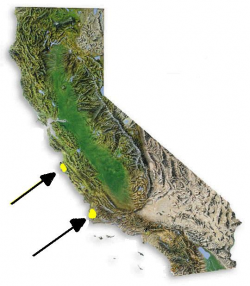 ---



This fact sheet was prepared by Grey F. Hayes and Dean W. Taylor under award NA04N0S4200074 from the National Oceanic and Atmospheric Administration (NOAA), U.S. Department of Commerce (DOC). The statements, findings, conclusions, and recommendations are those of the authors and do not necessarily reflect the views of the NOAA or the DOC.
© Copyright 2006, Elkhorn Slough Coastal Training Program
Last updated: Sep 18, 2007 20:11
Common Names - seaside bird's-beak
Family - Orobanchaceae (Broomrape Family)

State Status - state endangered
(January 1982)
Federal Status - none
Habitat
Young marine sand deposits along the coast or inland on older elevated marine terraces with sandy soils, and occasionally in loose residual soils in adjacent sites; maritime chaparral; edges of oak woodland; < 200 m.
Key Characteristics
Erect annual herb, a root parasite, 3–15 dm tall, the entire plant yellow (chlorotic),; flowers 5–8 in ± compact, head-like clusters; outer bract lobed in distal 1/2, middle lobe ± lanceolate, tip tapered, inner bract 14–20 mm; corolla 15–20 mm, yellowish, lower side marked maroon in U-shape, pouches white (Wetherwax and Tank 2013). C. rigidus is a variable species with geographically separated but intergrading races (Chuang and Heckard 1986). In our region, it is distinguished rom sspp. rigidus and setigerus by shape of outer inflorescence bracts (see drawings) and generally by color (reddish and with higher chlorophyll concentrations in the latter two subspecies, this perhaps indicating a lesser nutritional reliance on parasitism.
Flowering Period
(May) June to August, with identification possible into October
Reference Population
Fort Ord National Monument (Monterey County).
Global Distribution
Endemic to south and central coastal California.
Conservation
Several historical locations near Monterey are presumed extirpated by early urbanization, but one occurrence was destroyed by development in the mid 1980s. The southerly populations are in Santa Barbara County, several located on state park lands as at Burton Mesa near Lompoc. Threatened by development, energy projects, off-road vehicles, and military operations. A partial root parasite, this strategy enables Cordylanthus spp. to grow in arid areas during the summer after most annuals have died. Little is known about the the hosts required (Chuang and Heckard 1971). Some occurrences are intermediate to ssp. rigidus.
References
CNPS, Rare Plant Program. 2013. Cordylanthus rigidus ssp. littoralis, in Inventory of Rare and Endangered Plants (online edition, v8-02). California Native Plant Society, Sacramento, CA. http://www.rareplants.cnps.org/detail/504.html [accessed 5 February 2015].
T. I. Chuang and L. R. Heckard. 1971. Observations on root-parasitism in Cordylanthus (Scrophulariaceae). American Journal of Botany 58(3):218–228.
T. I. Chuang and L. R. Heckard. 1986. Systematics and evolution of Cordylanthus (Scrophulariaceae-Pedicularieae) (including the taxonomy of Subgenus Cordylanthus). Systematic Botany Monographs 10:1–105.
Wetherwax, M. and D. C. Tank. 2013. Cordylanthus rigidus subsp. littoralis, in Jepson Flora Project (eds.). Jepson eFlora http://ucjeps.berkeley.edu/cgi-bin/get_IJM.pl?tid=49980 [accessed 5 February 2015].