rare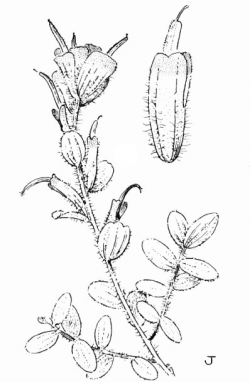 Illustration from Abrams (1951)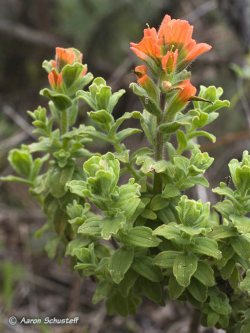 Photo taken on cliffs south of Bixby Creek, Big Sur © 2007 Aaron Schusteff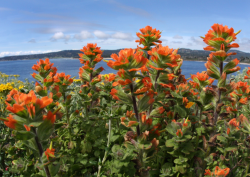 Photo taken at Point Lobos State Reserve © 2012 Ron Wolf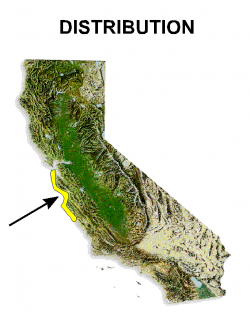 ---



This fact sheet was prepared by Dean W. Taylor and Dylan M. Neubauer under award NA04N0S4200074 from the National Oceanic and Atmospheric Administration (NOAA), U.S. Department of Commerce (DOC). The statements, findings, conclusions, and recommendations are those of the authors and do not necessarily reflect the views of the NOAA or the DOC.
© Copyright 2006, Elkhorn Slough Coastal Training Program
Last updated: Mar 26, 2016 18:53
Common Names - Monterey Indian paintbrush
Family - Orobanchaceae (Broomrape Family)

State Status - none
Federal Status - none
Habitat
Coastal dunes, mostly in stabilized hind dunes or on cliffs flanking the shore, < 100 m.
Key Characteristics
Perennial herb, becoming somewhat shrubby in older plants, gray-green becoming purplish, bristly, generally non-glandular; stems with an abundance of short axillary shoots; leaves oblong to rounded, fleshy, generally unlobed, or with three minor apical lobes, the tips truncate-rounded; inflorescence to 20 cm long, bracts to 20 mm long, widely wedge-shaped to widely obovate, lobed as in the leaves, bright red most frequently, but also varying in shades to yellow; calyx divided 1/3–1/2 dorsally, more deeply ventrally, and < 1/8 on the sides; flower long-nonglandular- and short-glandular-hairy; corolla 20–30 mm long, beak about as long as the tube (Wetherwax et al. 2013).
Flowering Period
February to December (blooms throughout the year).
Reference Populations
Sunset State Beach (Santa Cruz County); Salinas River State Beach, Marina State Beach, Point Lobos State Natural Reserve (Monterey County).
Global Distribution
Endemic to the dunes in central California from Pt. Reyes south to Big Sur (Marin, San Francisco, Santa Cruz, and Monterey counties).
Conservation
Most closely related to C. mendocinensis and C. wightii of the North Coast of California. The Santa Cruz County occurrence on the north shore of the Monterey Bay was still extant as of 2014. Collections from the North Coast of Santa Cruz County are part of a putative polyphyletic complex that may involve C. affinis, C. subinclusa ssp. franciscana, C. latifolia, C. foliolosa, C. wightii, and C. applegatei (West 2015). Needs study.
At Salinas River State Beach, this species was limited to foredune sites, being absent from both beach and hind dunes (Bluestone 1981). CNPS (2015) distribution fails to reflect documented occurrences in San Francisco County, where the type was collected, and where possibly now extirpated (Howell et al. 1958); plants reported in Howell (1949) for Marin County are C. wightii. Once more common and widespread in our region, it is declining in abundance. It is a partial root parasite but may not be able to use introduced ice plant (Carpobrotus spp.) as a host. It merits CNPS List 1B status and local consideration under CEQA.
References
Abrams, L. R. 1951. Illustrated Flora of the Pacific States, Vol. 3. Stanford University Press, Palo Alto, CA.
Bluestone, V. 1981. Strand and dune vegetation at Salinas River State Beach, California. Madroño 28(2):49–60.
CNPS, Rare Plant Program. 2015. Castilleja latifolia, in Inventory of Rare and Endangered Plants (online edition, v8-02). California Native Plant Society, Sacramento, CA. http://www.rareplants.cnps.org/detail/424.html [accessed 30 January 2015].
Howell, J. T. 1949. Marin Flora. University of California Press, Berkeley, CA.
Howell, J. T., P. H. Raven, and P. Rubtzoff. 1958. A flora of San Francisco, California. Wasmann Journal of Biology 16:1–156.
West, J. A. 2015. Traversing Swanton Road. http://arboretum.ucsc.edu/pdfs/traversing-swanton.pdf [accessed 2 February 2015].
Wetherwax, T. I. Chuang, and L. R. Heckard. 2013. Castilleja, in Jepson Flora Project (eds.). Jepson eFlora, http://ucjeps.berkeley.edu/cgi-bin/get_IJM.pl?tid=18228 [accessed 2 February 2015].