endangered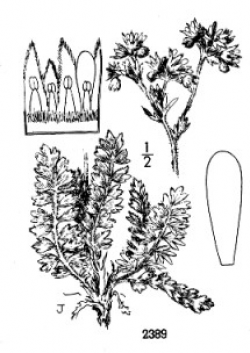 Illustration from Abrams (1944).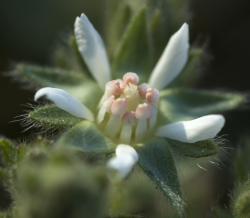 Photo taken at the UCSC Campus Natural Reserve © 2006 Dylan Neubauer.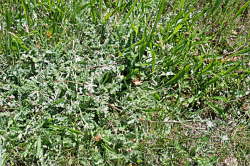 Photo taken at UCSC Campus Natural Reserve © Dean W. Taylor.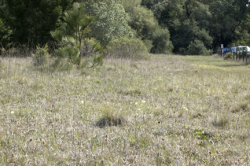 Photo taken at UCSC Campus Natural Reserve © 2006 Dylan Neubauer.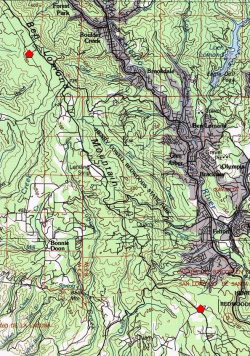 A red polygon indicates an extant occurrence.
---



This fact sheet was prepared by Dylan M. Neubauer under award NA04N0S4200074 from the National Oceanic and Atmospheric Administration (NOAA), U.S. Department of Commerce (DOC). The statements, findings, conclusions, and recommendations are those of the authors and do not necessarily reflect the views of the NOAA or the DOC.
© Copyright 2006, Elkhorn Slough Coastal Training Program
Last updated: Jun 21, 2007 17:59
Common Names - Point Reyes horkelia
Family - Rosaceae (Rose Family)

State Status - none
Federal Status - none
Habitat
Coastal marine terraces in coastal prairie or vegetated hind-dunes or in open grassy areas in oak woodland or mixed evergreen forest at higher elevations; 5–755 m.
Key Characteristics
Strongly aromatic, matted, grayish perennial herb rooting at the lower nodes, caudex generally branched, stems decumbent to ascending, generally 10–30 cm tall; basal leaves tufted, odd-1-pinnately compound, flattish, generally 4–10 cm long, leaflets densely hairy, generally 5–10 pairs, ± crowded, 7–12 mm long, palmately veined at base, generally wedge-shaped, 5–10-toothed 1/3–1/2 to base (vs. H. cuneata vars. w/ leaflets pinnately veined, oblong to obovate, > 10-toothed); inflorescence ± dense, clusters 5–10-flowered; inner wall of hypanthium hairy, bractlets 1 mm wide, lanceolate; petals white; pistils generally 20–30, style 2–4 mm (Ertter 2013). Can grow sympatrically with H. cuneata var. cuneata and perhaps H. cuneata var. sericea.
Flowering Period
May to September

Reference Population
UC Santa Cruz Campus Natural Reserve (Santa Cruz County).
Global Distribution
Endemic to California in the northern Central Coast (Santa Cruz to Point Reyes) and the central North Coast (Fort Bragg) (Ertter 2013).
Conservation
The northern-most location near Fort Bragg, Mendocino County may be distinct (Ertter 2013). The occurrence on lower Empire Grade in Santa Cruz County is on UC Santa Cruz and State Park-owned property, but represents only one extended population. The area is impacted by trail use, especially by mountain bikes, and plants are limited to areas where tall grass is absent. Native conifers and shrubs are invading this area, as are non-native herbs/grasses. Another Santa Cruz County location is on private land, is highly endangered, and was impacted by road clearing in 2004. Other, smaller occurrences have been reported for the Bonny Doon and Swanton areas. Additional populations are to be expected; field surveys are needed. This plant is very aromatic and can often be smelt before it is seen.
References
Abrams, L. R. 1944. Illustrated Flora of the Pacific States, Vol. 2. Stanford University Press, Palo Alto, CA.
CNPS, Rare Plant Program. 2014. Horkelia marinensis, in Inventory of Rare and Endangered Plants (online edition, v8-02). California Native Plant Society, Sacramento, CA. http://www.rareplants.cnps.org/detail/913.html [accessed 20 February 2015].
Ertter, B. 2013. Horkelia marinensis, in Jepson Flora Project (eds.). Jepson eFlora, http://ucjeps.berkeley.edu/cgi-bin/get_IJM.pl?tid=28413 [accessed 20 February 2015].