endangered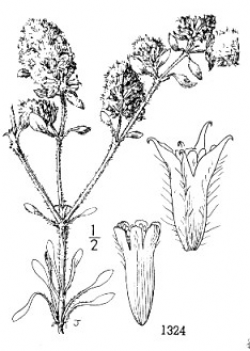 Illustration from Abrams (1944).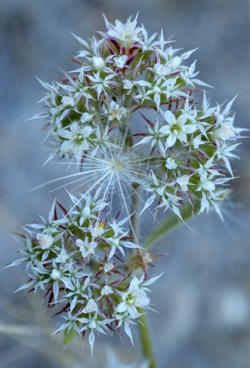 Photo taken in Bonny Doon © 2006 Dylan Neubauer.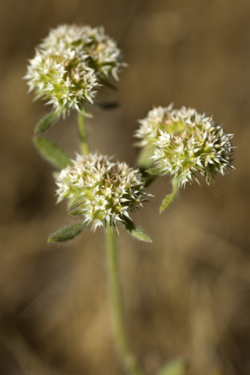 Photo taken in Bonny Doon © 2007 Dylan Neubauer.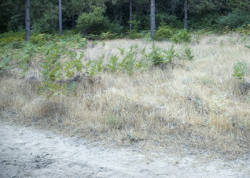 Photo taken in Bonny Doon © 2007 Dylan Neubauer.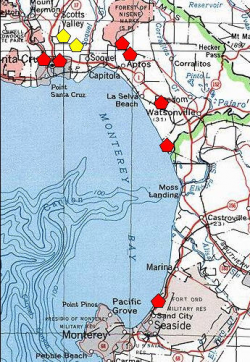 A red polygon indicates an extant occurrence; yellow indicates the occurrence has been extirpated.
---



This fact sheet was prepared by Dylan M. Neubauer under award NA04N0S4200074 from the National Oceanic and Atmospheric Administration (NOAA), U.S. Department of Commerce (DOC). The statements, findings, conclusions, and recommendations are those of the authors and do not necessarily reflect the views of the NOAA or the DOC.
© Copyright 2006, Elkhorn Slough Coastal Training Program
Last updated: Jun 21, 2007 10:53
Common Names - robust spineflower
Family - Polygonaceae (Buckwheat Family)

State Status - none
Federal Status - federal endangered
(February 1994)
Habitat
Inland or coastal marine sand deposits and sandstone outcrops in the southern Santa Cruz Mountains; openings in maritime chaparral; sandy, annual herb-dominated flats; openings in coast sagewort (Artemisia pycnocephala) and lizard tail (Eriophyllum staechadifolium) dune scrub; 10–300 m.
Key Characteristics
Annual herb, prostrate to erect < 2.5 dm tall, hairy; leaves in a basal rosette and at lowest few nodes, oblanceolate, the blades 1.5–5 cm long, 0.3–1 cm wide; inflorescence dense, cymose; bracts 2, awns 0; involucre 3-angled, 6-ribbed, tube 2.5–4 mm long; teeth 6, 0.3–1 mm, margins white, awns 0.7–1.3 mm, hooked; flower 1, 2.5–4 mm, hairy, perianth 2-colored, tube white, lobes white to rose, generally jagged or toothed; stamens 9 (Reveal and Rosatti 2013). Based on growth habit and involucre margin color could be confused with diffuse spineflower (C. diffusa).
Flowering Period
May to September
Reference Populations
Pogonip, Aptos High (Santa Cruz County); Fort Ord Dunes State Park (Monterey County).
Global Distribution
Endemic to the central coast of California in Monterey, Santa Cruz, and Marin counties.
Conservation
A 2009 genetic study of the Pungentes subsection of Chorizanthe (Brinegar and Baron) illustrates that the coastal-growing robust spineflower is more closely related to the coastal-growing Monterey spineflower (C. pungens var. pungens) than to the inland-growing Scotts Valley spineflower (C. robusta var. hartwegii). And, the Scotts Valley spineflower is more closely related to the inland-growing Ben Lomond spineflower (C. pungens var. hartwegiana) than to the robust spineflower. The current Jepson Manual/eFlora treatment (Reveal 2013) does not reflect this information.
Plants in the large Sunset State Beach population—at the southernmost extent of the robust spineflower's distribution—have stems prostrate, while other populations tend toward having stems erect.
Two of the populations near Soquel have not been relocated in recent years. The population near Aptos High School suffers from a variety of student activities and the overgrowth of shrubby plants; a portion of the occurrence was eliminated in 2004 by remodeling at the site. The occurrence in Pogonip Park consists of two very small colonies that are morphologically distinct, one showing evidence of hybridization with C. pungens var. hartwegiana. A population near Branciforte Creek in Santa Cruz is threatened by a 40-unit development and is the subject of litigation against the City of Santa Cruz by the California Native Plant Society, Santa Cruz County Chapter.
References
Abrams, L. 1944. Illustrated Flora of the Pacific States, Vol 2. Stanford University Press, Palo Alto, CA.

Brinegar, C. and S. Baron. 2009. Molecular phylogeny of the Pungentes subsection of Chorizanthe (Polyognaceae: Eriogonoideae) with emphasis on the phylogeography of the C. pungens–C. robusta complex. Madroño 56(3):168–183.
CNPS, Rare Plant Program. 2015. Chorizanthe robusta var. robusta in Inventory of Rare and Endangered Plants (online edition, v8-02). California Native Plant Society, Sacramento, CA. http://www.rareplants.cnps.org/detail/475.html [accessed 3 February 2015].
Ertter, B. 1996. Saga of the Santa Cruz spineflower. Fremontia 24(4):8–11.
Reveal J. L. and T. J. Rosatti. 2013. Chorizanthe robusta var. robusta, in Jepson Flora Project (eds.). Jepson eFlora, http://ucjeps.berkeley.edu/cgi-bin/get_IJM.pl?tid=56504 [accessed 3 February 2015].
U.S. Fish and Wildlife Service (USFWS). 2010. Chorizanthe robusta var. robusta (robust spineflower) 5-year review: summary and evaluation. Ventura Fish and Wildlife Office, Ventura, CA. https://ecos.fws.gov/docs/five_year_review/doc4029.pdf [accessed 3 February 2015].