threatened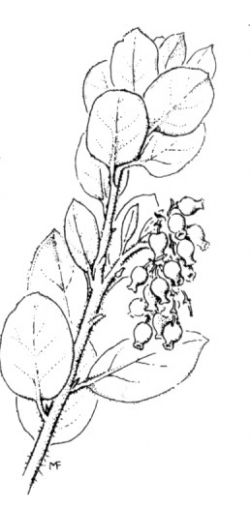 Photo taken at Fort Ord © 2001 by Bruce Delgado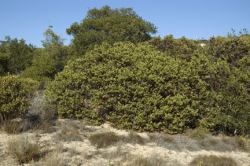 Photo taken at Fort Ord © 2007 by Dylan Neubauer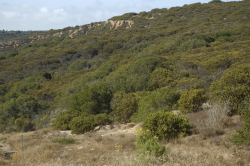 Photo taken at Fort Ord © 2007 by Dylan Neubauer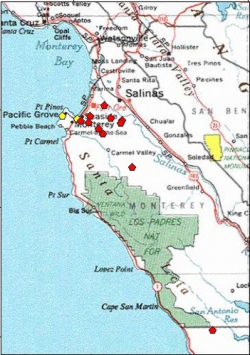 A red polygon indicates occurrence is extant; yellow indicates the occurrence has been extirpated
---



This fact sheet was prepared by Dylan M. Neubauer and Dean W. Taylor under award NA04N0S4200074 from the National Oceanic and Atmospheric Administration (NOAA), U.S. Department of Commerce (DOC). The statements, findings, conclusions, and recommendations are those of the authors and do not necessarily reflect the views of the NOAA or the DOC.
© Copyright 2006, Elkhorn Slough Coastal Training Program
Last updated: Sep 7, 2007 12:16
Common Names - Monterey manzanita
Family - Ericaceae (Heath Family)

State Status - none
Federal Status - none
Habitat
Sandy, inland, late-Pleistocene sand deposits (Arnold series) overtopping leached Aromas Sands Formation parent material on mesas and hillsides of maritime chaparral and along edges of coast live oak (Quercus agrifolia var. agrifolia) woodland, < 350 m.

Key Characteristics
Erect, shrubs to 3 m tall, basal burl absent; twigs, leaves, nascent inflorescence axis, bract, pedicel, ovary, fruit glandular-hairy; leaves erect, not overlapped, petiole 4–6 mm long, blade 2–3 cm long, 1.5–3 cm wide, blade surfaces similar, dark green to very slightly glaucous, finely papillate, scabrous, dull, glandular-hairy; inflorescence paniculate, 4–10-branched, bracts 3–12 mm, leaf-like, green, persistent; berries 8–12 mm wide, sticky (Parker et al. 2013).
Flowering Period
February to March (identification possible throughout the year).
Reference Populations
Fort Ord National Monument, Toro Park (Monterey County).
Global Distribution
Endemic to the Monterey Bay region of California.
Conservation
The most immediate conservation threats are erosion and fire suppression. The latter interferes with the Monterey manzanita's ability to reproduce, due the fact that the it, like other obligate seeders, requires periodic fires for germination. In contrast, burl-forming manzanitas can resprout after fire. Mowing had reduced regeneration of the manzanita at Parker Flats on Fort Ord—hence the reason for burning the area in 2005. Another threat is competition from invasive species, however twenty years of weed abatement on the Monument have contributed greatly to the health of this and other rare species there.
The reported location for San Luis Obispo County requires field study. Parker et al. (2013) do not include San Luis Obispo within the known range. Occurrences in and around the Monterey airport were eliminated in the 1980s. A report from upper Carmel Valley has not been located in recent years.
References
CNPS, Rare Plant Program. 2015. Arctostaphylos montereyensis, in Inventory of Rare and Endangered Plants (online edition, v8-02). California Native Plant Society, Sacramento, CA. http://www.rareplants.cnps.org/detail/104.html [accessed 1 February 2015].
Griffin, J. R. 1978. Maritime chaparral and endemic shrubs of the Monterey Bay region, California. Madroño 25:65–112.

Parker, V. T., M. C. Vasey, and J. E. Keeley. 2013. Arctostaphylos, in Jepson Flora Project (eds.). Jepson eFlora, http://ucjeps.berkeley.edu/cgi-bin/get_IJM.pl?tid=13950 [accessed 1 February 2015].
Van Dyke, E. and K. Holl. 2003. Mapping the Distribution of Maritime Chaparral Species in the Monterey Bay Area. Prepared for the U.S. Fish and Wildlife Service.


Reviewers
Lars Pierce (August 2007); Bruce Delgado (August 2007, June 2015).