threatened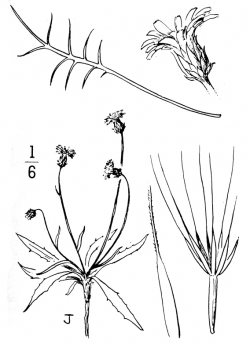 Illustration from Ferris (1960).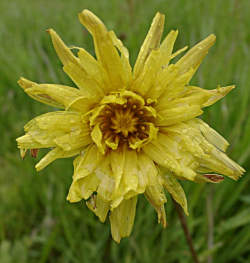 Photo taken near Palo Corona Regional Park, Monterey County © 2001 Lynn Overtree.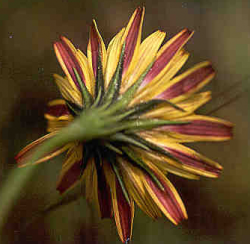 Photo © 2003 Jerry Wolfe.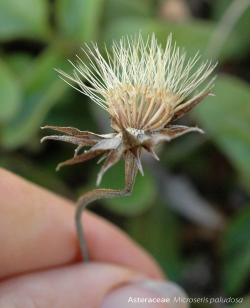 Photo taken in the Scott Creek watershed © 2006 Dylan Neubauer.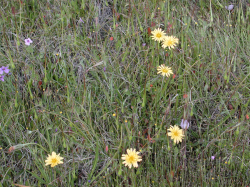 Photo taken at Fort Ord National Monument © 2003 Bruce Delgado.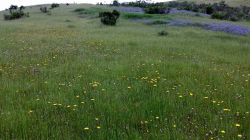 Photo taken at Fort Ord National Monument © 2016 Bruce Delgado.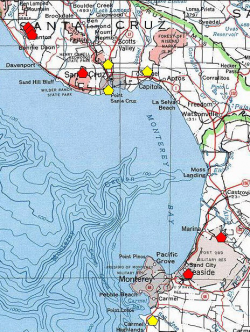 A red polygon indicates an extant occurrence; yellow indicates the occurrence has been extirpated.
---



This fact sheet was prepared by Dylan M. Neubauer under award NA04N0S4200074 from the National Oceanic and Atmospheric Administration (NOAA), U.S. Department of Commerce (DOC). The statements, findings, conclusions, and recommendations are those of the authors and do not necessarily reflect the views of the NOAA or the DOC.
© Copyright 2006, Elkhorn Slough Coastal Training Program
Last updated: Sep 3, 2007 10:58
Common Names - marsh microseris
Family - Asteraceae (Sunflower Family)
State Status - none
Federal Status - none
Habitat
Vernally moist to saturated sites in coastal terrace prairie; 5–300 m.
Key Characteristics
Perennial herb from a taproot, 15-70 cm tall, generally branched and leafy only near base; leaf 5-35 cm long, entire to lobed; heads large, 2.5–4 cm across when full; involucre 10–20 mm, the outer phyllaries linear to ovate-deltate, tapered, not recurved, < inner, generally mealy and ± black-hairy; flowers 25–70, ligules yellow-orange; cypselae 4–7 mm long, stramineous or dull whitish, smooth or outermost with ribs scabrous; pappus scales 5-10, 2-4 mm, brownish, bristles 6-9 mm, barbed (Chambers 2013).
Flowering Period
April to June

Reference Population
Fort Ord National Monument (Monterey County).
Global Distribution
Endemic to the coast of northern and central California.
Conservation
Approximately 30 distinct locations occur at Fort Ord National Monument, some of which support up to 30,000 or more individuals. These locations are protected in perpetuity on publicly owned lands administered by the Bureau of Land Management. Together, these approximately 30 locations occupy an estimated 30–70 acres. The largest number of individuals occurs at Machine Gun Flats off Hennekens Ranch Rd. In 2016, record numbers of plants were reported from Fort Ord National Monument lands.
Thomas (1961) listed a Santa Cruz location that is extirpated. A 1957 collection from Graham Hill is also probably extirpated, although suitable habitat remains in the vicinity of this site, which also supports an occurrence of Santa Cruz tarplant (Holocarpha macradenia). A population exists on the UCSC Campus Natural Reserve (Neubauer 2013) and was still extant as of 2015, and a single population is still known to occur as of 2011 in the Swanton area along the immediate coast. Field study is needed to determine if other locations remain.
References
Chambers, K. L. 2013. Microseris paludosa, in Jepson Flora Project (eds.). Jepson eFlora, http://ucjeps.berkeley.edu/cgi-bin/get_IJM.pl?tid=4159 [accessed 20 February 2015].
CNPS, Rare Plant Program. 2010. Microseris paludosa, in Inventory of Rare and Endangered Plants (online edition, v8-02). California Native Plant Society, Sacramento, CA. http://www.rareplants.cnps.org/detail/1968.html [accessed 20 February 2015].
Ferris, R. S. 1960. Illustrated Flora of the Pacific States, Vol. 4. Stanford University Press, Stanford, CA.
Neubauer, D. 2013. Annotated Checklist of the Vascular Plants of Santa Cruz County, California, Second Edition. California Native Plant Society, Santa Cruz Chapter, Santa Cruz, CA.

Pak, Jae-Hong et al. 2001. Systematic implications of fruit wall anatomy and surface sculpturing of Microseris (Asteraceae, Lactuceae) and relatives. International Journal of Plant Sciences 162: 209-220.

Thomas, J. H. 1961. Flora of the Santa Cruz Mountains of California. Stanford University Press, Stanford, CA.

Reviewers
James A. West, Bruce Delgado, (August 2007).