threatened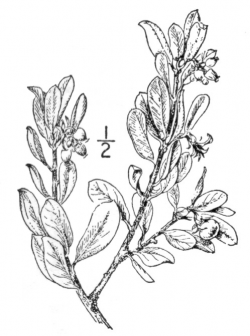 Illustration from Abrams (1951).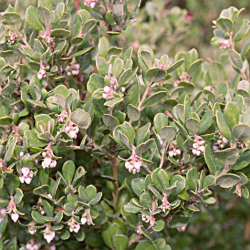 Photo taken at Monterey Airport by Dean W. Taylor.
Photo taken at Fort Ord © 2007 by Dylan Neubauer.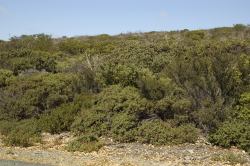 Photo taken at Fort Ord © 2007 by Dylan Neubauer.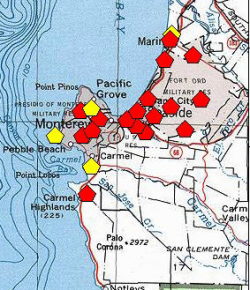 A red polygon indicates an extant occurrence; yellow indicates the occurrence has been extirpated.
---



This fact sheet was prepared by Dylan M. Neubauer and Dean W. Taylor under award NA04N0S4200074 from the National Oceanic and Atmospheric Administration (NOAA), U.S. Department of Commerce (DOC). The statements, findings, conclusions, and recommendations are those of the authors and do not necessarily reflect the views of the NOAA or the DOC.
© Copyright 2006, Elkhorn Slough Coastal Training Program
Last updated: Sep 11, 2007 18:45
Common Names - sandmat manzanita
Family - Ericaceae (Heath Family)

State Status - none
Federal Status - none
Habitat
Sandy inland late-Pleistocene sand deposits (Baywood series) or highly leached and sterile marine terrace deposits (Aromas Sands Formation, Paso Robles Formation), sandstone outcrops (formations allied to Monterey shale), growing in maritime chaparral, edges or under sparse canopy of Monterey pine (Pinus radiata) forest or coast live-oak (Quercus agrifolia var. agrifolia) woodland; < 200 m.
Key Characteristics
Low, mound-forming shrubs to ca. 1–2 m tall, without a basal burl; leaves convex above, with a sharp terminal tip, bicolored, dull green above, distinctly paler and with matted woolly hairs below, stomata on lower surface only; berries glandular. A. hookeri ssp. hookeri, which grows with A. pumila and has a similar growth habit, can be distinguished from the latter by its uniformly and darker green, flat leaves and usually smooth, hairless berries. A. pumila is similar in general appearance to A. sensitiva (which has cylindrical, vertically ribbed fruits) and occurs in the Santa Cruz Mountains, but not within the range of A. pumila.
Flowering Period
February to May

Reference Populations
Fort Ord National Monument (Monterey County)
Global Distribution
Endemic to central California in the Monterey Bay region; extirpated from San Francisco.
Conservation
Thousands of acres of suitable habitat for this species occur on the Fort Ord National Monument, where twenty years of weed-abatement have greatly improved habitat quality for this and other rare species.
Regenerates prolifically from seed following fire. Studies by Markos et al. (1998) indicate this species is more closely allied to A. montana subsp. ravenii and A. franciscana than it is to A. hookeri. Griffin (1978) indicated that the plants at Point Lobos State Natural Reserve Extension are possible hybrids, but did not imply a parentage. There is a single 1897 collection from San Francisco that both Roof (1980) and Jepson (1939) considered to be A. pumila. However, Parker et al (2013) doesn't mention this occurrence, which is now extirpated regardless, nor is the record mentioned in the CNPS Inventory (2012). The same holds true for the single 1929 Santa Cruz County record (5 miles north of Santa Cruz).
References
Abrams, L. 1951. Illustrated Flora of the Pacific States, Vol. 3. Stanford University Press, Palo Alto, CA.
CNPS, Rare Plant Program. 2012. Arctostaphylos pumila, in Inventory of Rare and Endangered Plants (online edition, v8-02). California Native Plant Society, Sacramento, CA. http://www.rareplants.cnps.org/detail/38.html [accessed 1 February 2015].
Griffin, J. R. 1978. Maritime chaparral and endemic shrubs of the Monterey Bay region, California Madroño 25:65–112.
Jepson, W. L. 1939. Flora of California 3(1):36.
Markos, S., L. C. Hielman, M. C. Vasey, and V. T. Parker. 1998. Phylogeny of the Arctostaphylos hookeri complex (Ericaceae) base on nrDNA data. Madroño 45(3):187–199.
Parker, V. T., M. C. Vasey, and J. E. Keeley. 2013. Arctostaphylos, in Jepson Flora Project (eds.). Jepson eFlora, http://ucjeps.berkeley.edu/cgi-bin/get_IJM.pl?tid=13972 [accessed 1 February 2015].
Roof, J. B. 1980. Changing Seasons 1(3):2–31.
Reviewer
Bruce Delgado (June 2015).